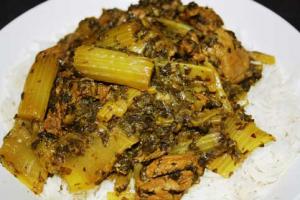 This week my stress levels have kicked in to an all time high and not only am I craving comfort food, but also need the kind of dish that can be made in a large batch and eaten for a few days. Who on earth has time to cook every night when your workload is beyond hectic?
When I think of comfort food, a lot of the time I think of Persian food which reminds me of some of the food I ate when I was a kid. Now, when you think about Persian food, a good way to ease you gently is to compare our stews, such as this one, to the abundant variety of Indian curries, although minus the spice factor. Our stews are usually comprise of a tomato base or a herb base and this particular one is made with herbs. Remember, this batch will feed a whole family or several generous meals for one person. Either way, it is delicious and in this version I have kept the fat content to an all time low. This stew, like most stews, is really best made the day before you are planning to eat it, but hey… not everyone can be so patient!
Ingredients
1kg of diced beef skirt steak (or lamb neck if you aren't counting calories!)
2 bunches of celery
3 -4 small onions, finely chopped
4 large bunches of flat leaf parsley (not the small plastic supermarket packs)
1 small bunch of fresh mint
1 heaped teaspoon of dried mint
2 teaspoons of turmeric
Generous pinch of saffron (optional)
Juice of 1 lemon
Generous amount of Maldon sea salt (about 2 heaped tablespoon)
Freshly milled black pepper
3 pints of water
A little oil
Method
Firstly wash and chop your celery into lengths of about 2.5 inches and then wash your parsley and finely chop the whole lot stalks and all (easier if you have a food processor) wash your mint, but pick the leaves from the stem and finely chop also.
In a large pan over a medium to high heat, fry your onions in a little oil and just as they start to colour add your meat and stir well, keeping it moving to seal each piece evenly. Then add your turmeric and saffron and mix well again. It is important you keep the meat moving by stirring it constantly to avoid it 'stewing'. Add 1 tablespoon of salt and a generous amount of black pepper to the meat and stir well, before covering the meat with 2 pints of water. Reduce heat to low and allow to cook slowly.
In another large pan on a medium heat, add a little oil and then your celery to the pan and lightly fry for about 5 minutes, before adding all your chopped herbs, the remaining table spoon of salt and your dried mint. Fry the mixture for approximately 15 minutes stirring every 5 minutes to prevent the celery from colouring. Once done, add your celery and herb mixture into the pan containing the meat and stir well. Add your lemon juice and another pint of water and cook for a minimum of 3 hours over a very low heat, stirring every 30 minutes to prevent sticking. Ideally the stew should be allowed to cool, refrigerated overnight and reheated the next day and served with Basmati rice. It really does taste a lot better when, as Persians like to say 'Jaa oftaadeh" – which simply means 'It has fallen into place". Perfect.