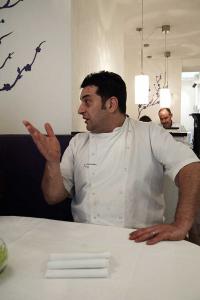 'We've been open since November 2009, just in time for Christmas. We wanted to be open earlier, but you know builders, designers…' Santino Busciglio, chef/patron of Mennula shrugs cheerfully, but you get the impression he wasn't quite so sanguine at the time.
Santino is Sicilian and looks it – a brawny man who fills his compact restaurant with both his build and personality. He was born in Sicily but came to the UK when very young so his accent is pure British, with a touch of the Bolton where he grew up. In the kitchen his Italian is fluent, barking out orders and sharing jokes with his team as they bustle to keep pace with the orders that have been non stop since opening.
'We're full all the time,' he says. 'Tuesday to Saturday, lunch and dinner. And,' he points out, stabbing a finger at the tablecloth, 'lots of people are repeat business. I recognise the same faces again and again and that's what I like to see.' It created a small problem though, 'with people coming back I had to make sure they weren't seeing just the one menu so I changed it. You have to keep the interest going.'
And interesting the menu certainly is with dishes that draw from the classic cuisine of his birthplace. They certainly work, bringing in customers who aren't exactly hard up for dining choices. 'This whole street is dedicated to restaurants,' Santino says waving his arm at Charlotte Street outside, 'from Japanese like Roka to 2 star Michelin with Pied a Terre, then there's Chez Gerard next door. It's nice that people can come to this street and maybe not know what they want but there's so much choice! It's not just one style or type of cuisine in the street and here I keep it exciting too. Rustic Sicilian but with fine presentation and style.'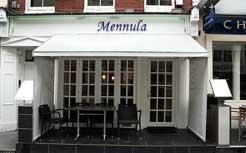 Does the competition for diners worry him, though? 'No. I always said that when I opened my own restaurant I wanted to open it with at least 20 other restaurants around. I know what I do is good and that I try to give value for money and it works!'
"David from Pied actually came down for a chat, lovely man,' Santino adds. 'We're not competing, they are a different restaurant entirely. I don't think anyone is competing with anyone really in this street. Mind you the Mexican place across the road were worried we could be a Mexican restaurant! They got the idea we might be and they were changing their menus. Maybe it was my sombrero that gave them the wrong idea!', he smiles wickedly, perhaps playing up to the Sicilan cliches of dodgy dealing Mafia types.
'I love the vibe of this street,' he continues. 'It's going to be great when we can get the patio doors open in the good weather – the old garlic wafting out, spaghetti vongoles on the table!'. He laughs uproariously at the cliché, his cooking is more advanced than that, but the image is right. People enjoying their food, not peering at it wondering which bit is which and worried it might all fall down if prodded in the wrong place. Foams are definitely not on Santino's menu that's for sure'
'Every review has been good and we worked hard to get them so I am pleased, he muses, 'but also I believe we deserve them. A couple of bloggers weren't too impressed but……people who know their food, they like us' he states emphatically. 'You know the real critics, ones who are professional, and I stress that word, people with a wealth of knowledge and experience of food, they get us. Someone comes here and says, oh split broad bean soup, that's boring, they just don't get it. It's a classic Sicilian dish that has almost disappeared back in Sicily, we bring it back so that people can get an exciting real flavour of the region.'
The restaurant is small by some standards but Santino loves it. 'I always wanted a place like this. I've been offered a few places in the past, some were interesting business propositions, but I always felt it was important to only go with the right person and in the right location and at the end of the day this is a chef's dream, a 40-50 cover restaurant, W1 location in London? It doesn't get much better.