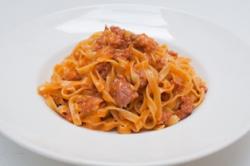 A recipe from Ponti's Italian Kitchen – a tasty and hearty sauce for your pasta.
Ingredients:
50g Butter
50ml Oil Olive
100g Onion
20g Garlic
2 & 4 Salsiccia – (Mild Sausage from Carnevale with finocchio and half piccante Napoli Carnevale)
200ml White Wine
100g Double concentrate of Tomato
Salt to taste
300ml Milk
50g Sage
10-15 Juniper Berries
Method:
1. Saute the onion with the sage leaves, juniper berries and garlic
2. Crumble, or chop, the sausage and add to the sauted mixture.
3. Add in white wine and reduce until almost evaporated
4. Add the milk and the double concentrate of tomatoes and then cook for about 1 hour on low heat.
Use this sauce with tagliatelle, orechiette, shell shaped pasta or bucattini. Add the cooked pasta to the sauce together with some parmesan and serve.