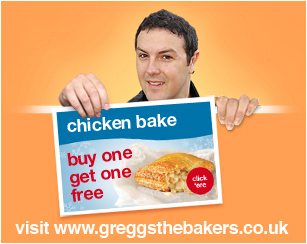 Good old Greggs the Bakers. I know they aren't on the radar of foodies, most fine diners probably don't know where or what Greggs is, but the La Chavroche of the under classes is bucking recessionary trends and saw underlying sales in the four weeks to 3 January rise by 5.3%. What's more they plan expansion into the gaping holes that will be left as other shops go out of business. Greggs already currently has 1409 shops which, when you think about it, is an awful lot of cheese and onion pies.
Personally I like them. Their sandwiches come in thick crusty bread, not cold 'n' wet like one well known sandwich mega-flogger, their rolls are reassuringly classic and just the thing to knock up into a cheese and pickle lunch, the bread is fresh-baked and yet not as soft as the supermarket stuff and their doughnuts always have jam in them.
Not finding any jam in your doughnut is one of life's great disappointments, especially when you assume it must be there and are getting all excited about the last bite. A doughnut from a well-known supermarket last week had none at all, and my shouts of annoyance must have rattled the windows of houses a hundred yards away.
Greggs staff are very multicultural, yet all seem to be well in tune with the classic British market they serve and its rather peculiar dietary requirements. They are efficient and quick too, not something you find often these days.
So raise a scalding hot Chicken Bake and a bubbling tin of Tennants Super to Greggs the Bakers and their well-deserved success.