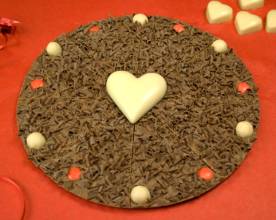 We all know men love pizza, whether it's served up for breakfast along with the morning paper or over a romantic candle light dinner. So, why not give them a chocolate pizza this Valentine's Day? Even the most macho of men won't be able to resist this 10″ inch chocolate feast! Presented in an authentic pizza box with red tissue paper, the specialty chocolate comes with a Valentine's gift card and envelope so you can include your own personalised message inside.
Handcrafted by self-confessed chocoholics, The Gourmet Chocolate Pizza Co.'s limited edition Valentine's Day pizza has a delicious luxury Belgian milk chocolate base with a topping of white chocolate coated honeycomb balls, red rainbow drops, and a sprinkle of milk chocolate curls.
For women whose men are avid football fans, why not try the Football Fun Chocolate Pizza as an alternative to the Valentine's Day option. Comprising a Belgian milk chocolate base, covered with white and milk chocolate honeycomb balls and a blue chocolate drop topping with a sprinkle of milk chocolate curls, the Football Fun Chocolate Pizza is certain to score! What's more the Gourmet Chocolate Pizza Co. can even colour code the chocolate drops to match your man's favourite team colours.
All pizzas are delivered directly to your door within three days of ordering. Visit www.gourmetchocolatepizza.co.uk to order your pizza.