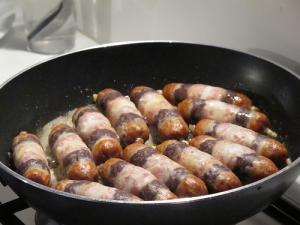 Here in Valladolid, Spain the wind is enough to tear your face off, so it's a bit unlucky that the national Tapas contest is being held in a glorified and very large tent. At times fierce gusts have shaken the flaps so hard even the Spaniards have stopped chattering and looked apprehensive.
Tomorrow the big boys, the pros, duke it out but today is the turn of the students from around the world. Over 100 cookery schools' written entries were whittled down to 14 and today they cook for a panel of judges that includes Ferran Adria's right hand man at El Bulli.
His presence signifies this is no provincial cook off. Tapas are not the patatas bravas and prawns in oil of old, they are a significant art form in cooking. Things of beauty and imagination all delivered in an area the size of a matchbox. Today's selection of students are tomorrow's big names and you don't have to be Spanish to be a contender, there's even a team here from Bulgaria.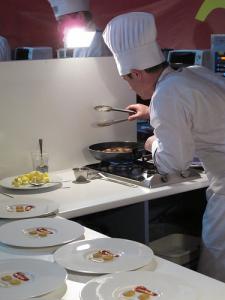 No student team from England but there is an Irish entry from Neil Tanner of the Failte Ireland Training Centre. It's bold and possibly beautiful, it's an Irish breakfast reduced to a tapa – a sausage casing is filled with layers of morcilla (black pudding), chorizo sausage, dry cured bacon from Ireland, mushrooms witha small poached quails egg in middle. This is then fried and served on two potato farls with home made tomato ketchup and a white bean puree to replace the baked beans.
Despite the Spanish announcer's attempts to diss this before it even gets served, it's going down surprisingly well. El Bulli man is nodding to himself as he tastes it, as are the other judges. Can the plucky paddies pull it off? Their Aussie lecturer is bullish, he's even smiling as he cleans down the workspace. Seven more dishes must be tried and we must wait two days until the winners are announced at the grand gala.
Cut to two days later and our man is in the crowd looking nervous as well he might. The Spanish master of ceremonies is almost hoarse after three days of non stop-talking to the audience and the massed TV cameras, there's a burst of Spanish and we make out the words Neil Tanner – he's done it, he's come first and as soon as he's stepped up to get his prize he goes down in a sea of well-wishers.
'Fantastic!', the chairman of the judges says as we congratulate Neil ,' it was good enough to win the professional prize. Really wonderful.' Seems the Irish have invaded the hearts of the Spanish and tapas now has a bit of an Oirish accent.