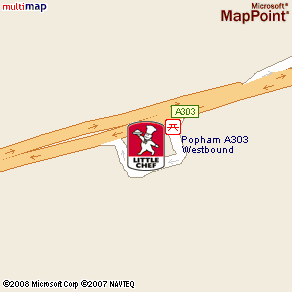 You don't normally hear the sound of critics' trotters beating a path to a motorway diner but that all changed last week when the nation's finest, and a few freeloaders, pulled into the car park at the Popham branch of the Little Chef chain.
Like many people I've always regarded a Little Chef as the first place to go to after leaving the last day of a festival; the lure of a big fry-up after all those bean burgers and, to be completely frank, the prospect of a lavatory in apple pie order, is too strong to resist. However in the Popham branch, under Heston Blumenthal 's direction, the sound in the bogs is now less of people humming Coldplay, but the clatter of a kitchen's pots and pans and the aroma is of coffee.
Blumenthal is of course famous for his sensory experiments at the Fat Duck restaurant and for outlandish dishes that surprise and excite. Who else then for Channel 4 to employ to work magic on a Little Chef than a great big famous one? The title of the programme, to be broadcast next year, is inevitably 'Big Chef, Little Chef' and it promises to be a bit of a feast.
Heston has not thrown the baby out with the bath water at the Little Chef; things like the Olympic breakfast and the infamous pancakes are still on the menu, but he has, naturally, worked to up the standard without moving off the traditional low price point. The Olympic Breakfast, cue today's presence of Olympic swimmer Mark Spitz at the meal, is made up of British pork sausages from Finnebrogue Venison Co., black pudding from Ramsay of Carluke Ltd. and unsmoked bacon from Denhay Farms, in West Dorset
He has also sourced the best hake for the fish and chips and worked hard to perfect the batter, macaroni cheese tickled the taste buds of critics eager to escape the rigours of Michelin-starred dining and go back to school, while hamburgers were made of 100% British organic beef and, Good Lord, there's a prawn cocktail on the menu.
It's a bold experiment and a bit of fun too, and presumably a whole lot of people will be jumping in their Mondeos to sample it. For the next few weeks Ashley Palmer-Watts, head chef at the Fat Duck, will be at the helm and after that who knows? The Little Chef experience may never be the same again; they may even have to take bookings.
Nick Harman