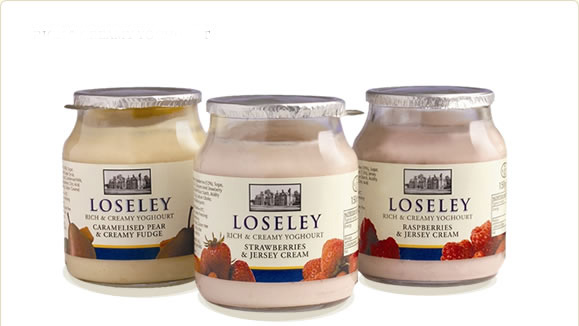 There is a way to have your cake and eat it – no sugar and with only natural, healthy ingredients – Loseley, the Rolls Royce of yoghourts, are made using fresh Channel Island milk and Jersey cream, both of which are rich in calcium to build strong bones and teeth. They also contain real fruit which we all know is good for our health. Best of all, they taste delicious and are a great way to finish off a meal or to have as a healthy snack between meals.
Try Loseley Rich & Creamy Raspberries and Jersey Cream, Rich & Creamy Blackberry and Bramley Apple, or super sophisticated Loseley Luxury Layered Madagascan Vanilla and Champagne Rhubarb.
For those with a slightly sweeter tooth there is Loseley Rich & Creamy Caramelised Pear and Creamy Fudge, or Loseley Luxury Layered Tangy Lemon and Lemon Curd.
With the Loseley range of fruit yoghourts you and the children get all the benefits of fresh, natural ingredients while indulging a love of sweet treats. The healthier option is to pick up a Loseley yoghourt the next time you fancy something sweet.
Loseley Rich & Creamy Yoghourts cost 75p.
Loseley Luxury Layered Yoghourts cost 65p
Loseley Chilled Foods are available from the chilled cabinet of local independent grocers, Tesco, Morrisons and Waitrose. Visit www.loseley.com for more information.