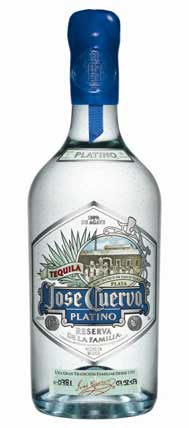 The world's most prestigious tequila family is set to launch Jose Cuervo® Platino™ – the world's best tasting silver tequila¹. Made using a closely guarded secret method, which until recently was used only to make tequila for the family's private enjoyment, Jose Cuervo Platino showcases a 200-year legacy of tequila craftsmanship.
In a blind taste test conducted by the Beverage Testing Institute¹, Jose Cuervo Platino was preferred to all other ultra premium silver tequilas, rating it 'superlative" with a score of 96 out of 100, the highest ever awarded to a silver tequila. The Institute concluded, 'Jose Cuervo Platino is the most flavourful and distinctive silver tequila, providing one of the world's great spirit experiences—a true connoisseur's choice." In fact, Jose Cuervo Platino is of such a premium quality that it is best enjoyed sipping, neat over ice.
Part of the Jose Cuervo Reserva de la Familia collection, Jose Cuervo Platino is made from 100% blue agave (Agave tequilana azul), a plant native to Mexico. Using the piña, the flavourful heart of the agave, the Cuervo family's exclusive distillation method called Esencia de Agave™ optimises the silver tequila's vibrant agave notes.
'The Esencia de Agave process awakens a tequila of exquisite character and complexity—one that reflects the pure character and essence of Mexico's prized blue agave plant," explains Juan Domingo Beckmann, executive director of Casa Cuervo and 10th generation Cuervo family. 'The attention to detail is exceptional, from the hand-selected 10-12 year old agave grown on our family estate, to the tequila's unique flavour and smooth finish."
Handcrafted in individually numbered, wax-sealed bottles and presented in a luxury blue box, Jose Cuervo Platino is now available in select outlets nationwide, including top bars, members clubs, boutique stores, and designer stores including Harvey Nichols nationwide. RRP £50.00, for a 700 ml bottle. www.josecuervoplatino.com
Shake it up
Cuervo® Platino Margarita
The world's number one cocktail, made from the world's number one silver tequila.
50ml Jose Cuervo ® Platino TM
30ml fresh lime juice
25ml agave nectar
Lime wedge
Mix ingredients in cocktail shaker with ice. Serve in a chilled margarita glass straight up and garnish with a lime wedge. Salt is optional.
2 units.