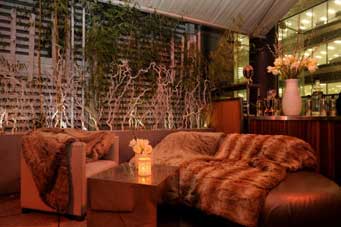 Following the success of last year's Smirnoff Black Winter Ice Lounge as the place to get into the festive spirit in style, the people from Smirnoff Black vodka and Plateau Restaurant Canary Wharf will once again transform the rooftop terrace into a sophisticated winter destination from 8th December 2008 – 7th February 2009.
The Smirnoff Black Winter Ice Lounge provides the perfect contemporary venue for winter celebrations throughout the festive season and into the New Year. Guests will be invited to raise their glasses to 2009 once more on 14th January, in celebration of traditional Russian New Year.
Guests can wrap up in faux-fur blankets and enjoy a distinctively smooth Smirnoff Black cocktail in the glass-fronted rooftop terrace, which features low white chairs and intimate lighting. The Smirnoff Black cocktail menu has been created by Head Barman Teresa Farina especially for the Winter Ice Lounge at Plateau, and includes stylish winter wonders to suit everyone's tastes.
The super premium vodka is enjoyed by people who enjoy a smooth and sophisticated drink. The Smirnoff Black Collins is designed to showcase the taste of the vodka, which is made in small batches for mellow smoothness. A selection of delicious bar food and hot drinks are also available.