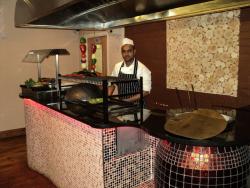 Parkway in London's Camden is so full of restaurants you could hardly fit another in, or so it seems. New to the array of eateries is Namaaste Kitchen which opened for business at the tail end of last year.
Together with a select band of other food writers I was invited to lunch at the Chef's Table at Namaaste Kitchen recently. The restaurant has a modern clean fresh feel with its exposed brick walls and comfortable leather seating. A great feature of Namaaste Kitchen is the modern Indian grill, an attractive show kitchen situated towards the back of the restaurant, where diners can view the chefs working at the grill. The restaurant specialises in Indian grills, both traditional and modern and the three core methods of Indian and Pakistani grill cookery are central to the menu. Dishes are cooked in the tandoor clay oven, on the sigri over a coal flame and on the tawa, a hot iron griddle plate in full view of customers, particularly those at the chef's tables, which are able to seat parties of eight apiece.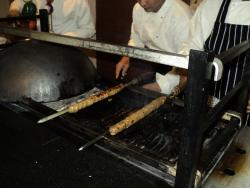 For lunch we worked our way through a range of tasting plates that had been specially selected from the Namaaste Kitchen menu. After the first dish arrived, what seemed like the constant stream of food kept appearing at our table. Kicking off this feast was Sholay Salmon Tikka, which had been smoked having first been marinated with dill and mustard; it was beautifully moist and flaky. Next came some 'jungle-style' char grilled lamb kebab, nicely tender pieces lamb served with a red onion salad. Then the home smoked sheek kebab, which had big flavours from the garlic, green chilli and garam masala mixed into the minced lamb. On to some lovely fragrant coriander lime chicken tikka, then peshwari lamb chops that were delightfully tender and just had to be picked up and nibbled. Good sized char grilled tiger prawns came next, and finally a biriani with corn fed chicken pieces, little soft nuggets among the lovely fragrant rice. During the meal we also tasted some very good garlic naan, We also tried the date and ginger naan, which had a sweetness to it and is a must for anyone to taste. These were all bright and full flavoured dishes, giving the taste buds a great work out, I absolutely savoured and enjoyed every mouthful.
We washed all this lovely food down with a Sauvignon Blanc, its acidity was absolutely a great foil for the spicy dishes. Wines at Namaaste Kitchen start at £13.50 a bottle, which is very reasonable. There are also wines available by the glass in 125ml and 175 ml measures including Prosecco and Champagne. Namaaste Kitchen is an excellent addition to the wide range of restaurants in the area and it's such a good thing there's room for it.