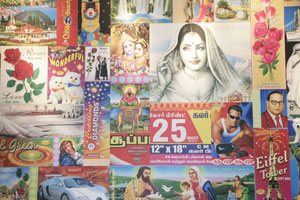 There is another Masala Zone in town. The owners of Amaya, Chutney Mary, Veeraswamy and five other MZs have done their number six in Bayswater. Aptly, they have dropped this recession-proof concept on the site of a former bank – recession-proof because the chain remains great value at under a tenner for a thali.
At the launch party, the room was awash with people wearing stickers saying 'press'. Hello, are you Press? Pleased to meet you, Press here – no not there!! I never knew there were SO many radio stations, TV channels and magazines whose names Google later failed to digest.
Chairman, Mr. Ranjit Mathrani, spoke of how the majority of high street confabs masquerading as Indian restaurants weren't even so… unlike this, he implied, which was the genuine specimen. Actually, it isn't far off. Masala Zone to me always has fulfilled everything I need in a satisfying supper – a variety of authentic, fresh tasting snippets in a zzhizzy atmosphere at a smart price – get me! Ms Press Release.
T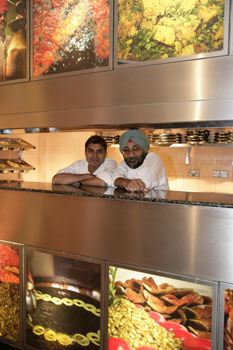 his place, like most of the chain, has its own theme. In Covent Garden, it's a ceiling of rag puppets. Here, pasting the walls is a collage of posters that plenty in the west might deign kitsch, soapy, floating pastels of gods, Bollywood stars, wrestlers, roses, kittens. But in many homes across that triangular mass of land, those pictures are genuine decoration, as kitsch as the tat that Western tourists drag back that masquerades as 'ethnic art'.
Rant aside, let's talk food, eh? The canapés just kept on coming, thankfully. My faves were some shami kebabs because there were so airy and exact in their spicing. The chicken samosas with tomato chutney did not wow, neither did the onion bhajia but I loved the diamonds of layered idli (rice cake) and lentil cake, like a tiny Victoria sponge, green on white sandwiching a lentilled centre strip. Oh hell, I'm sure there's a shorter name for it than all that. And the chicken tikka biriyani served later from a massive tureen was excellent, its masala paste nicely basting the rice.
Unfortunately, I can give you no further information as I did not dine there and was not one of the privileged few picked out by waiters at the end of the evening to present with goodie bags. But do I care? Never. My ego, she can withstand the most firey of tandoors, the sharpest of chillis, the… do I LOOK bovvered?
Masala Zone, 75, Bishops Bridge Road, Bayswater, London W2 6BG. Tel: 020 7221 0055.