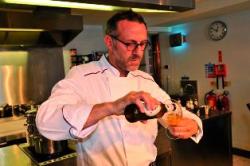 While in the capital for Identità London recently, two Michelin starred Chef Massimo Bottura (Osteria Francescana in Modena) entertained a number of food writers and bloggers to L'atelier des Chefs in Wigmore Street to present five dishes, all with the common ingredient of the event sponsors, the Italian lager, Birra Moretti. The recipes were created to reflect the lead theme: The Luxury of Simplicity.
To start things off, we had a Moretti Kir: Massimo dotted a lager glass with small blobs of twenty year-old balsamic vinegar before adding the Moretti, the balsamic vinegar added a depth of flavour to the lager, making for a very satisfying drink.
The first dish to be sampled was panino mortadella, the bread having a nice crispness, which balanced nicely with mortadella that had been given a fluffy texture and had a delicate pork taste, with a nicely salty tang coming through. This was followed by a dish of leek, scallion and truffle shavings, which was delicious; the delicate flavour of the leeks seemed to be enhanced by the beer, the truffles added an extra dimension, but without dominating the dish.
We then tried raviolo of cotechino (an Italian sausage) with three type of lentil, another a lovely dish; the lentils paired with the sausage really well. As luck would have it, one of the guests was a chocolatier, and he had brought a small bar of 75% cocoa solids chocolate, which he presented to Massimo, who quickly rustled up some more of the ravioli, using it as an additional ingredient. He expressed some doubt as to whether it would work, but it did… it really did.
After this, Massimo had prepared a dish of veal cheek, marinated in beer and young balsamic vinegar, served with celery, onion and carrot, finished with touches of fruit mustard and chlorophyll on the plate. This was another tremendous dish; the meat tender and full of flavour and the accompaniments working really well with the veal.
To finish, what Massimo called the magnum of foie gras; the foie gras had been marinated in beer, then injected with some extra old balsamic vinegar, then coated with crushed sweet and sour hazelnuts and almonds. it was served on a small stick like an ice lolly, and looked very much like one. But it certainly didn't taste like one, the richness of the foie gras blending beautifully with the sweetness of the balsamic vinegar and the crunch of the nuts adding a lovely texture. It was a glorious dish, and if you feel like trying it out, we have the recipe here.
Throughout the lunch, Massimo took time to explain the dishes, and how they underpin his desire to combine luxury and simplicity. All of his dishes achieved this and as I waddled out, I wondered how much a flight to Modena might cost.