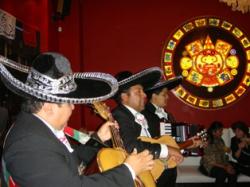 Vivid yellow RouteMaster bus? Check. Eight-foot high inflatable beer bottle? Check. Lycra-clad Amazon on stilts? Check. Welcome, ladies and gentlemen, to the fifth anniversary celebrations at Mestizo, a very popular Mexican restaurant in Hampstead Road.
On arrival, having passed the rather surreal outside scene, we found that inside, the Mexican beer and margaritas were in full flow, with people chatting animatedly and enjoying the festive atmosphere.
Staff circulated with canapes, cheese filled pastries, deep fried filo wrapped chicken and little 'pastry' discs loaded with various toppings, our favourite was one with terrifically juicy pork with tomato and red onion, which we would happily have eaten all evening, but all of these bites were packed with flavour and went down very nicely with our drinks – and they certainly got us interested in trying the menu at Mestizo.
Of course, no Mexican celebration would be complete without a mariachi band and dancing, and Mestizo didn't disappoint. The distinctive music and beautifully dressed dancers adding a great finishing touches to the atmosphere.
By mid-evening, the ground floor restaurant area was packed with revellers, but the basement bar area was less crowded and had dance music and disco lights, although this also got busier as people began to move around to explore the venue. But wherever they were, the guests were clearly enjoying the evening, as were we.
So, for Mestizo, the first five years have ended with a swing… here's to the next five, and more of the same!
Mestizo, 103 Hampstead Road, London, NW1 3EL Tel: 020 7387 4064 www.mestizomx.com