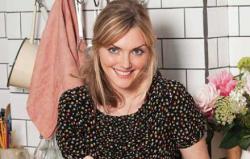 Unless you have been holidaying on the moon, it is unlikely that Sophie Dahl's new TV career as a 'home cook' would have escaped your attention. Fashion model Sophie Dahl hit our screens a couple of weeks ago, landing with more of a thud then the desired bang. After releasing her first cook book 'The Delicious Miss Dahl', I admit I was waiting with baited breath to see what pearls of foodie wisdom she was going to share with us on screen, only to be bitterly disappointed. Her book seemed to have been received well by the British public, showing no signs of rejection, but perhaps the fatal error in her somewhat unconvincing screen persona. Cue media backlash, which at least keeps us talking about her, but will it be enough to save her TV career?
I must admit that I have actually always quite liked Sophie Dahl. Call it a 'fat girl's prerogative' but since she was discovered by Isabella Blow whilst embroiled in screaming row with her Mother on the streets of Chelsea, I felt she did a lot to represent the curvier women of the nation. Although once upon a time, she was somewhat 'Rubenesque' – which we all know is the media's PC word for 'fat' – in recent years Miss Dahl has joined the ranks of the 'skinnies' and shed 4 dress sizes. I do therefore find it a tad difficult to believe that she still indulges in the dishes she claims to scoff copious quantities of. Sickly peanut butter fudge, sugar-packed toffee apple crumble and the heavy cream-laden omelette 'Arnold Bennett'. I just don't buy it. Every fibre of my being wants to enjoy watching her cook and swallow every line she is feeding me, but it just won't compute. Cookery interspersed with bursts of poetry, shopping for antiquities and pretending, rather unconvincingly, to greedily eat what she is cooking… well, call me crazy, it's just not believable.
The recipes themselves are a tad unexciting, with Eton Mess, Fishcakes, Flapjacks and tomato soup on the menu so far, it's not exactly verging on uncharted territory is it? And don't get me started on the weekly mood themes 'Selfish", 'Nostalgia" and 'Melancholy"? – How about 'Hormonal", 'Premenstrual" and 'Not bothered to cook"? But seriously, I think the fact that she is a vegetarian restricts her repertoire somewhat. I was excited when she made Shepherds pie the other day, only for it to be made with lentils. Bummer. Fair enough if you want to specialise in vegetarian cookery, but to fill the shoes of Grand Dames of British cookery such as Delia Smith and Nigella, it will take a woman of greater substance with bigger tricks up her sleeve to get the job done.
I think we Brits are far more worldly and knowledgeable when it comes to food and cookery these days and perhaps 15-20 years ago Miss Dahl's cookery programme would have garnered more positive press, but this is 2010 and we are more interested in discovering new skills, techniques and recipes from far flung corners of the globe.
And so I say to thee, 'The Delicious Miss Dahl' with the greatest of affection, stick to what you do best love and steer clear of the kitchen and I, in turn, promise not to make my modelling debut on any cat walks or magazine spreads, any time soon.