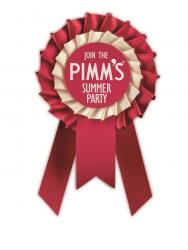 Launching their Summer Party, the people at Pimm's took over parts of Lambeth Palace and the Secret Garden within the Palace's walls, dressing the place with garlands of coloured lights and bunting. I have to say that it was a bit quirky, well quite a lot quirky actually. I should have guessed from the Pimm's adverts on the telly and to some extent, the wording of the invitation. The party took place on the evening of Saturday 26th of March, the eve of British Summertime with the clocks going forward at 2.00 a.m. the following morning.
On arrival we were promptly decorated with Pimm's Summer Party rosettes and bright red flashing bow ties. We were then snapped in an end of the pier style photo booth before we went to explore.
With Pimm's cocktails being offered everywhere you looked and walked these fruity drinks were all too easily drunk, as was I, well, slightly…. oh OK, a lot. There were some nice nibbles strategically placed around. And in an effort to retain at least some semblance of sobriety we munched on crispy things as we drank. Given that the temperature was in the single numbers, so barely above freezing, or so it felt that evening, it was quite bizarre. But of course we entered into the spirit of things as is right, particularly as those serving us and helping the evening to run smoothly were dressed as if it were the height of summer circa 1950 and wearing shorts and flip flops, my sympathies went out to them.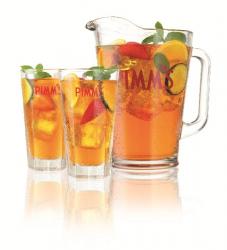 We were told there'd be telly celebs floating around mingling with invited guests and we did notice Blackadder, Vicar of Dibley and Holby City represented but my star-dar is a bit wonky, it always has been, I know there were other glitterati, but just didn't see or bump into them, at least I wasn't aware of doing so.
Outside, in the Secret Garden, everything was terribly British, with glowing gnomes, swingball , connect 4 and shivering guests. Stalls were dispensing (gorgeous) fish and chips and of course Pimm's cocktails. There was also, the obligatory barbecue, of industrial proportions, which at one point set off the smoke alarms in the main building, leading to a full evacuation and bringing a fire engine full of strapping firemen – not, perhaps, the best use of their time, but it certainly added a touch more colour to an already remarkable evening. The barbeque was promptly relocated, and produced heroic amounts of burgers, bangers, corncobs and more. We plated up and scampered back into the relative warmth indoors, just in time to catch the tail end of a set by the cringingly-named Four Poofs and a Piano.
So,all credit to those nice people from Pimm's, this was an evening full of jolly, 'summer' fun, in no small part due to the lashings of Pimm's itself. And now that summer is officially here, it really is, to coin their advertising phrase, Pimm's o'clock. Cheers!