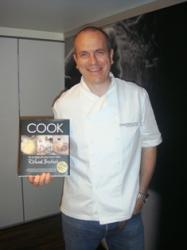 Invited recently to the launch of Richard Bertinet's new book Cook, at a well known kitchen showroom in Wigmore Street, I arrived hot and bothered having not had the best of journeys. I descended to the lower ground floor where an active kitchen is set up to join a select gathering of food writers and others from the foodiemedia. After a glass of water and quick cup of coffee, I was immediately set to work.
My late arrival had given my media colleagues the opportunity to select tasks that appealed to them, so I was left with what remained to be done – chopping onions! So I set about the task, which was all part of the preparation for making a chowder, a little envious of others who had somewhat more fragrant and cleaner tasks but hey, I'm a big boy and having worked in a large kitchen in my early life this menial task was not at all alien to me. After three or four onions, I had completed my designated task and thought hooray, now for something much nicer. Errr… not so, what seemed like a kilo of streaky bacon was hauled out of the fridge and I was asked to cut this into half inch pieces, of course I obliged, with hands a little greasy, I finished this task while one of the assembled glitterati was still quartering a bowl of button mushrooms that he had set about before I had arrived, so another job was given to me by Monsieur Bertinet, skinning and cubing some smoked haddock! Deep joy, but of course I obliged, flashbacks of those days in the semi darkness of the kitchens at The Ritz just flooded my brain, skinned and diced I had completes all three bits of prep. Another colleague was putting the dish together in a massive pan, so I had little to do with the remaining process.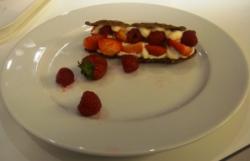 Another task befell me, opening a bottle and pouring some very nice rose wine, not one to complain, of course I did it, willingly. And while sipping this, observed the work of the other stations; one foodiescribe was proudly showing the pesto that she had made under Richard's watchful eye, others were carefully rolling what were in effect scraps of puff pastry that had been twisted and mangled and shaped into balls on a table that had been liberally drenched with icing sugar. They were rolled incredibly thinly in order to make a sort of langues du chat. The rolling process makes the icing sugar amalgamate with the pasty to make this thin, crisp sweet biscuit, that unless you knew its constituent parts you would not think was pastry. These were then baked. Having been cooked until a deep golden brown, they were left to cool on their non-stick sheet before being gathered up and transformed into a simple but very effective dessert, having sandwiched cream and fruit between the two biscuits. Well of course, as a dessert lover, I had to have a go at that. And I have to say, all parts of the process for making this dessert are very easy and when assembled it is very impressive as you can see from my effort here.
Despite my return to the menial slog of messy and smelly food prep, this was a fun experience and a bit of an insight into the way that Richard Bertinet entertains – he said that he always puts his dinner party guests to work in the kitchen – so watch out if you are invited to chez Bertinet! It also gave an insight into the style of teaching that he employs at his cookery masterclasses, so if you are into getting your hands stuck in, these are worth looking into as well – www.thebertinetkitchen.com
You can find our review of Richard Bertinet's new book 'Cook' on our books page here. Take a look at it. He is certainly a relaxed and down to earth chef.