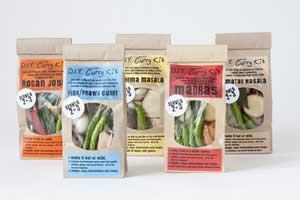 The idea of paying £3.50 for a packet of spices seems at first ludicrous, after all most of us have plenty of spice jars in the cupboard don't we?
Well yes but there's the problem, the majority of those Asian spice packets and jars have been languishing at the back of our shelves since Ghandi was a boy. Any real aroma and flavour they may have has long since disappeared and you might as well cook with sawdust
Of course the Asian cook has no such problem. Cooking Asian food everyday means the spices are nearly always freshly ground to order and have no chance to get stale. The result is food that zings with flavour every time.
So Hare's Moor DIY Curry Kits suddenly make a lot of sense. There are five curry kits to choose from – Madras, Kama Masala, Rogan Josh, Timatar Masala and Fish/Prawn Curry. Each kit contains things like fresh chillies, curry leaves and spice mix packs all ground and prepared each week. Even the garlic and ginger is spanking fresh, unlike the rather tired items you find in supermarkets. For this reason the kits actually have a shelf life and sell-by date and should be kept in the fridge until used.
The kits serve 2-3 people and we tried the Korma Masala, which also has a cute lump of fresh creamed coconut in the pack, as well as the Madras and were pretty impressed after initial scepticism. The ingredients really were remarkably fresh, the ginger and garlic oozing juice, the curry leaves spectacularly aromatic.
The instructions are clear and concise, although the spice packs could do with bigger number stickers as in the heat of the kitchen we used them in the wrong order on first attempt. It didn't make the dish inedible, far from it though.
In fact the kits made the most authentic and tasty curries we've ever knocked up in the kitchen and the convenience factor was ideal for a weekday night. £3.50 plus the cost of some chicken or other suitable protein is actually a good price to pay for food that outperforms the average take away, takes less time to arrive and doesn't claim to have no change for a £10 note when it turns up.
You can buy the kits at Harrods or Waitrose as well as other independent stores or buy direct online with free P&P at www.haresmoor.com