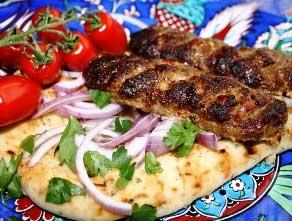 Continuing the theme of classic Turkish recipes and in perfect time for the BBQ season, this next dish is one of my absolute favourite kebab recipes of all time – The 'Adana' kebab. Adana is the fourth largest city in Turkey and when Turks stumble across something good, in a gesture of patriotism they tend to name it after a Turkish city, mountain or other such landmark to honour their heritage. Adana is the absolute centre of grilling kebabs in Turkey, they are renowned for it.
These kebabs are really delicious and have quite a fiery kick to them, but the level of heat is up to you. The are completely versatile in that you can BBQ them, preferably over charcoal which really is the best and most authentic way to cook them or if like me, you don't have a BBQ then you can either grill them or pan fry them. For your convenience, I have listed all 3 cooking methods and their respective timings below.
Serves 2-3
Ingredients
500g minced lamb (fat is essential, so do not opt for lean meat)
1 large red onion, minced in a processor or very finely chopped
3 extra hot red chillies – don't panic, I could barely taste them in the mixture
4-6 cloves of minced garlic
Handful of finely chopped parsley
1 red pepper, very finely chopped
1 tablespoon of hot sauce like Tabasco
2 heaped teaspoons of cumin powder
1 large egg
Maldon sea salt, about 2 heaped teaspoons
Preparation Method

Place all the ingredients in one large bowl and mix them together really well, ensuring you really work the mixture thoroughly with your hands. Then take a big fist full of meat and in the flattened palm of your hand, make a long sausage shape lengthways in your palm. Flatten the mixture and form a kebab about 6-8 inches long and about 2 inches wide. You can make them longer, especially if you have the classic long, flat-blade, sword-like skewers which you then mould the mixture around, but the small ones are just as good. Choose from one of the below cooking methods and simply serve with a bread of your choice, some tomatoes, sliced red onions and a little yoghurt tops the whole thing off very nicely. Who says kebabs should only be enjoyed when you are drunk? When they are this good, they are pretty hard to resist!
Various Cooking Methods
Oven – Preheat the oven to the highest temperature, fan assisted and cook the kebabs for about 20-25 minutes
Grill – Cook the kebabs on a high heat for about 12-15 minutes until nice and charred on the surface
Frying pan – If using gas, cook over a medium-high heat, if electric, full blast on highest heat and cook for approximately 8 minutes each side or until nice and brown.
BBQ – Avoid the hottest part of the BBQ and cook them until nicely charred on each side (approximately 6-8 minutes a side)