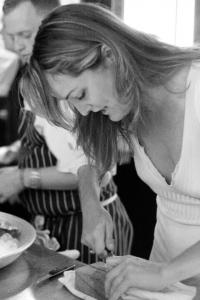 Sponsored by Trebetherick's St. Moritz Hotel, the inaugural Rock Oyster Festival (19-20 June) will be hosted at Porthilly Farm in Rock, Cornwall, from where the hotel takes delivery of its daily mussels and oysters…
For those who fancy getting under the shell of these ancient, wholesome bivalves, there will be a range of demonstrations and presentations. Local chefs, drinks companies, hotels and restaurants will also be getting involved, supplying a vast array of both shellfish and other foodie treats. Live music from bands including, 'Lobster Ammunition Conspiracy' and 'The Oyster Destroyers' will feature throughout.
As well as oyster shucking competitions and cookery workshops, the festival will make the most of the stunning natural surroundings of Porthilly Point, overlooking the Camel Estuary. There, sailing races will occur as well as the Great Mackerel Challenge, Chinese Lantern race and, for the children, Seashore Scavenges.
Hugh Ridgway, owner of the St. Moritz Hotel said: 'Oysters and mussels are the perfect example of how we are working with the freshest, highest quality producers right on our doorstep.'
On the partnership with the hotel, festival organiser Charlie Anderson, said: 'To gain support from such a prestigious hotel as St Moritz in our first year of operation bodes well for the sustainability and success of the event both this year and in the future; we are absolutely delighted with this partnership as it will help us with our fundraising for the RNLI and St Minver School.'
The festival's motto to visitors is 'to arrive hungry, sample the best, take part in the fun and leave happy and full!'
To enter the competition to win a pair of tickets: click here