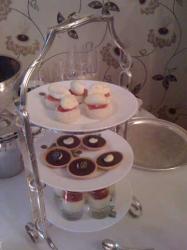 It did not surprise me that Mr Rodda, with his jolly stories and ruddy dairymaid cheeks, owned a creamery. He is the fifth generation of Roddas to have run the company that makes the Cornish clotted cream. Apparently, he tells me, Cornish people spread it on toast with zigzags of golden syrup to make 'thunder and lightning', a variation of cream tea. Or you can fork it through mashed potato and other savouries. As he recounted the glories of this sticky naughtiness, my stomach, head and heart started scrapping. I heard an aortic groan and within seconds, I was devouring the tier of cream cakes. Tummy wins again.
We were at Brown's Hotel, that very English establishment in Mayfair, to sample some of pastry chef Fabien Ecuvillon's patiserie. In its natural state, this clotted cream has a yellow, ruffled crust, the unusual colour a result of the type of milk Cornish cows produce – I don't quite understand why unless the cows graze on mustard but Rodda's word I shall take. Fabien had whipped up apple and blackberry cupcakes, passion fruit banana mousse, rhubarb jelly with Rodda's clotted cream ice cream and a few other caloried delights. These were indeed delicious though the knowledge of their fat content was never far away. Yet maybe it's just honest, presenting a tubful of tasty fat which will be just as calorific as loads of processed foods. And purer, being solely milk. Pure – or naughty – as the tales of a Cornish dairymaid.
Fabien Ecuvillon
Head Pastry Chef
Rocco Forte's Brown's Hotel
BROWN'S SCONES
Makes 20 scones
For the scones:
500g plain flour
17g baking powder
2g salt
100g diced butter
100g sugar
250ml milk
60g sultanas
For the eggs wash:
2 eggs yolks
10ml milk
Pinch of sugar
ï'· Sieve flour, baking powder, sugar and salt into a bowl.
ï'· Using just your fingertips, rub the butter into the flour until it is no longer visible.
ï'· Add the sultanas and the milk and mix well. Once it starts to come together, turn out on to a lightly floured surface and knead gently until it forms a smooth, soft dough.
ï'· Wrap it in cling film and chill for one hour.
ï'· Preheat the oven to 200 degrees /gas mark 6.
ï'· Roll the dough out on a lightly floured surface to 2.5 cm thick and cut into rounds with a 5cm cutter. Place on a baking tray lined with parchment paper.
ï'· For the egg wash, mix ingredients together in a small bowl and brush the tops of the scones twice.
ï'· Bake for 10 minutes until golden brown. Do not over-bake them or they will be dry.
ï'· Serve them warm with Cornish clotted cream (of course) and homemade strawberry jam.