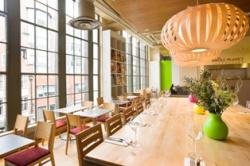 Having been invited to its recent launch and not been able to attend, it seemed quite appropriate that I went along to this new food outlet during National Vegetarian week. An abbreviation of 'simply authentic food' saf, is a sister outlet to the restaurant in Curtain Road, East London. It occupies a newly created, substantial area of the first floor of Whole Foods Market. This is a good marriage of two companies as it ties in well with the Wholefoods ethos of sourcing quality and wherever possible, fairtrade produce.
I understand that the menu at the Whole Foods' saf outlet reflects, largely, the lunch menu at saf's East London site. Having only had the opportunity to peruse this menu, it is clear that saf certainly do some interesting things with food. Most of the dishes on offer in their menu are vegan and many are prepared below 48 degrees Celsius, though there are a number of items, particularly among the main course options that are cooked. Thin slicing, marinating, drying, and developing cultures are all processes that they employ in creating their end products.
Whilst I was there I was able to sample a few of the dishes that saf has on offer at this outlet. The canneloni, a thinly sliced courgette shell containing a herbed 'cheese' made out of cashew nut was very tasty, the cheese was like a delicate but light cream cheese and the courgette is sufficiently subtle in flavour so as not to overpower its filling, these were accompanied by a good putanesca sauce and some thinly cut basil.
saf's raw Pad Thai, in effect a huge salad of julienne cut vegetables, chopped almond, mung sprouts, coriander, chilli and cherry tomatoes topped with some enoki mushroom was a very tasty dish. I have to say, not that it's the easiest thing to eat with chopsticks, but these raw ingredients, all good flavours in their own right, were brought together well by the dressings that were combined within the dish and worth the effort.
Washing these dishes down I tried two of the cocktails, the Madagascar Mojito, its principal ingredients vanilla bean infused Papagyo and golden rum mixed with orange lemon and ginger, together with a blend of 7 spices. It was very pleasant, there was a big spiciness that came through, I particularly noted cinnamon. I also tried the English Caipirinha, made with cachic, blueberries and cucumber, which was very refreshing. Both were interesting mixes and very good.
Saf is conveniently placed above the market itself, so is an ideal place to visit after you've selected your week's groceries. Equally, it would make a great place to meet if one or more of your group are vegetarian, or indeed if you want to try some innovative creations that just happen to be vegetarian. As I say, they are certainly doing some interesting things with food.
saf, Wholefoods Market, The Barkers Building, 63-97 Kensington High Street, London, W8 5SE