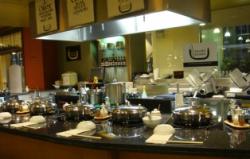 We were invited to the press evening for the launch of this Japanese food outlet at Whole Foods Market in Kensington, on the first floor of the old Barkers building.We were told that Shabu Shabu, meaning 'swish swish' in Japanese, was a style of eating that featured in many Japanese restaurants, but it was suggested that this particular outlet was unique as it is never the sole focus of the food served in them.
The concept is, essentially, that you sit at a counter surrounding a kitchen area where the raw ingredients are prepared. Having chosen what you wish to eat, you are served the platter of raw ingredients to cook for yourself in your own pan of freshly prepared soya and vegetable broth. The 'shabu shabu' relates to what you are supposed to do with your meat or fish (swish it) as you put it into the broth to cook. Once you have cooked your food you season it with soy sauce, chilli oil, chilli pepper, plum sauce, or ginger sauce (or other seasonings available) in any combination that you wish.
Now, maybe this doesn't sound appealing, paying for the privilege of cooking your own food! But it is a style of eating that would suit an individual eating alone, or a group who might enjoy the social interaction and experimentation that can be part of this style of eating. We tried it choosing a mixed platter, containing thinly sliced pork, beef and salmon, tofu, shiitake mushroom quarters, carrot slices, broccoli, cabbage, leek and noodles. Into the bubbling broth went everything but the meat, salmon and tofu, the vegetables and noodles needing somewhat longer to cook. After some few minutes occasionally stirring the broth and its contents, we 'shabu shabu'd' some beef, then with a little colander-like spoon, fished out the meat and some of the noodles, vegetables and soya solids that the broth had created, into our respective dishes. Having dressed our food with the condiments available to us we began to eat, adjusting the seasoning to taste as we did so. The food was good and tasty – the trick appears to be to use the condiments sparingly, so you can adjust the taste to suit your own palate perfectly and I suspect, with a little experience you will get it right straight off. We certainly enjoyed what we had and felt that a small group of friends eating in this way might find it a fun, enjoyable experience.
If you are thinking, this might be a bit of a challenge, don't worry, the kitchen staff are there to both help and advise you, so even if you are eating there for the first time you will cope and end up with good and tasty bowls full of food. Whether alone, which in this environment would feel perfectly natural, or in a group, it is a novel and interesting way to eat.
Shabu Shabu, The Barkers Building, 63-97 Kensington High Street, London, W8 5SE Tel: o2o7 368 4500