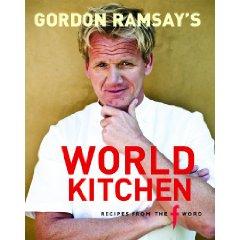 My ears 'pop' in the lift on the way up to the swanky 'Paramount' members club on the 31st floor of London's Centrepoint building. Of course dahhhlings, only the height of chic will do for one of Mr Ramsay's book launches. 'World Kitchen' is a handy 'All-under-one-roof" kind of book with some great recipes from across the globe and just in the nick of time for Christmas
As the hoards of writers, critics, PR luvvies and wannabees quaff champagne, I reach for my unexciting glass of water only to be rudely thrust aside (and somewhat felt-up) by Fay Maschler as she ditches an empty glass of champagne on the ledge where I'm perched.
Gordon arrives, flanked by his beautiful (and newly brunette) wife Tana and like bees to honey, the crowd swarm around him. Three twenty-something guys behind me, stare at Gordon analyzing his appearance and every move… 'He's definitely not as tall as I thought he would be… " More proof that despite some very good food and over a dozen cook books, the nation is simply more interested in Gordon himself more than anything else. And with that, I make a low-key exit. 'Sabrina Ghayour has left the building".
Gordon Ramsay's World Kitchen (The F Word) is reviewed here