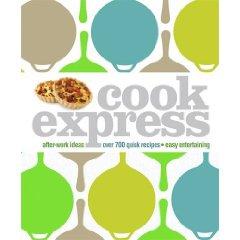 The one thing you can always guarantee with books from Dorling Kindersley is that they won't get lost on your shelf. Gosh they are big. The second is that you won't find any recipes that don't work, these people literally test everything in their kitchens located not a sandwich throw away from the Foodepedia offices in Soho.
These monster books don't go in for arty photography or long essays on sustainability. They are business-like tomes, designed to do what it says on the tin and Cook Express is no different with over 700 quick recipes to drum up after work and to entertain.
It's split into two sections – Everyday and Food for Friends. In other words meals you might cook for family against those designed for evenings when you are impressing. But before you dive in, there is a brilliant first section called Recipe Choosers with an instant visual reference to a selection of super-fast recipes for meat, fish, vegetarian and dessert. Each small picture of a dish has the prep time underneath it, along with the cook time, as well as whether the meal is freezeable. There's even a symbol to show whether a dish is 'healthy' or not. This doesn't mean the unsymboled ones are going to kill you, far from it, just an indication of low fat or low GI.
This is followed by pictorial guides to techniques and shortcuts, all very useful, and then we are into the recipes which kick off with 'No Cook' – how useful is that? Tasty too, with Sliced beef and rocket salad with a green olive and rocket salsa or Curried chickpeas with mango being just one of many great ideas.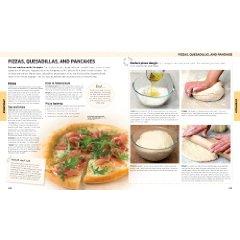 The Speedy Suppers section begins with a useful guide to the quick cook meats, quick cook fish and the quick cook veg, followed by guides to pan-frying, stir-frying and griddling. You may or may not know all the techniques, but this step by step illustrated guide will still come in useful and is crucial for kitchen rookies.
The book just keeps on giving, making it one that every home should have, especially homes where mum is too busy to pore over a famous chef's book. It's a friend in the kitchen who is full of practical advice, useful tips, great ideas and is dependable in a panic situation. The menu planners are in themselves worth the cover price, with clear countdowns to making three course meals in everything from 15 minutes to 60 and with a range of styles from decadent to buffet, all designed to take the stress out of entertaining and leave you with more time for your guests and, of course, yourself. There's even a whole section on that great way to entertain simply, Tapas-style.
A copy of this book is going to replace scores of books you bought and never used, it's the book you'd want to see in the kitchen of your kids when they leave home. It won't let them down and they'll probably bequeath it to your grandchildren. As an investment it's hard to beat, one that will secure a healthy food future.
{ISBN:1405341327}