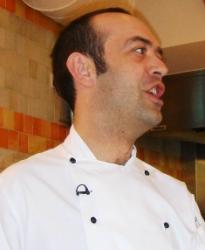 So, along with a bunch of other foodie writers and bloggers I was invited to Jose Pizzaro's Casa Brindisa in Exhibition Road, a short walk from South Kensington Station, to an event promoting this year's Tapas Fantasticas festival, which takes place over three days from Friday 25th June to Sunday 27th June this year. For the uninitiated, this festival, now in its third year, seeks to replicate a similar event that takes place in the Rioja region of Spain each year, where locals and visitors walk from one restaurant/tapas bar to another purchasing one dish and a glass of Rioja wine to complement it, at each. For this London event, visitors will be able to gather at Potters Fields Park, by Tower Bridge – see details below – and sample something as close to the festival in Rioja as is possible outside Spain.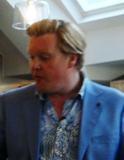 In this forerunner to the event, Jose Pizzaro and his team at Casa Brindisa created seven tapas dishes for wine expert Olly Smith to pair with wines from Rioja to give us a feel for what people might expect from this summer's Tapas Fantasticas. Jose's dishes were, as you might expect from this well respected Chef, both vibrant and interesting. They ranged from the simplicity of fat meaty anchovies on little gem lettuce halves, that were served with a Vina Ijalba white Rioja, which when tasted without food, was very dry and zesty, but became rounder and smoother when sipped with the dish. This was followed by cauliflower soup with truffle oil and Serrano ham, served with a Navajas Blanco Crianza, which ,conversely, changed from its round creaminess to be sharpened by the richness of this lovely cauliflower soup.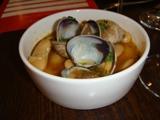 The courses continued, white (butter) beans with calms, paired with lovely Dinastia Vivanco Rosado (which would be fantastic sipped under a shade on a hot summer's day) with its great sharp edge; beautifully smoky piquillo peppers stuffed with sweet chard, paired with a Vina Herminia Excelsius, which was soft and round with a slight acidity; salt cod, paired with a Conde de Valdemar Crianza which had a light dry acidity made much rounder by the food; quail with chorizo, paired with CVNE Reserva, its sharp earthiness softened amazingly by the strongly flavoured meats, and a lamb stew with patatas a la importancia, paired with a Campillo Gran Reserva that was clean and edgy in the mouth and worked very well with the dish.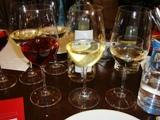 In terms of wine drinking I would describe myself as a wine lover, rather than a connoisseur and have not previously been overly conscious of the subtle – and sometimes incredible – differences foods can make to the wine you drink with it. Of course I was aware that certain foods work well with certain wines, but the extent to which foods can affect the wine in some of these pairings was a bit of an eye opener and underlined how an event like Tapas Fantasticas, apart from being an enjoyable afternoon and evening on any of the days it is running, will gives you an opportunity to explore rioja wines and how the different wines work with the dishes that are on offer.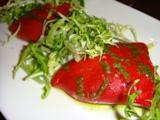 Tapas Fantasticas will bring together the food from a number of exhibiting London restaurants as well as that of tapas chefs from the Rioja region, who will be flying in specially for the occasion. There will also be live Spanish music, cookery demonstrations from Jose Pizzaro and wine tasting seminars from Olly Smith and Susy Atkins. Entry to the festival is free and the purchase of a wine glass for £2 will give the purchaser tokens to sample four different wines. Tapas and wines by the glass can be purchased from each of the different outlets at the festival. This sounds like a great thing to do on a summer's afternoon and evening. One for the Diary I think.
Tapas Fantasticas, 25th to 27th June inclusive, Potters Fields, Tooley Street/The Queens Walk, London, SE1 2AA
The entrance will be behind City Hall from the More London development. For more information about Tapas Fantasticas visit www.winesfromrioja.co.uk further information about the festival will feature on that site from mid April.