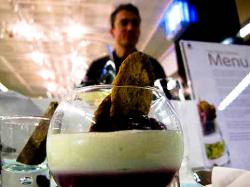 Given the emphasis on food appearance these days, an emphasis that can often have you circling your knife and fork over the plate unsure how the hell to actually eat the damn dish, layering in glasses seems a logical step.
In fact serving layered food in 'verrines' has actually been popular in France, Germany and the USA for some time now but has never caught on over here to any great degree. Alternating layers of complementary colours, textures and flavours means the cross-section as seen through the glass sides is often stunningly beautiful, whether as savoury or dessert, and where else would you expect to find elegance like that but in Harvey Nicks?
Traiteur and chef Franck Pontais won last year's UK Iron Chef contest, although presumably not with verrines which are not exactly hunky. He loves verrines, he even has a book about them, and has popped up for a month with his pop-up Glass Kitchen, as part of Harvey Nicks Taste Lab project. A rather cool 10-seat tasting bar has been installed in the Fifth Floor Foodmarket and Franck is there to supervise and cook with dishes served in Durobor-designed tiered glass pyramids.
It's all rather elegant but the nature of the setting means that the backstage work is on display. We all know that in restaurant kitchens chefs are using plastic boxes for the pre-prepped ingredients and squeezy bottles for the jus. It's practical and effective. Seeing it happen in front of you though as happens at Taste Lab somehow devalues the food, which is not cheap, Much as this is indeed a lab, Franck could do with some screens to hide his assembly and so increase the wow factor of the dishes when served.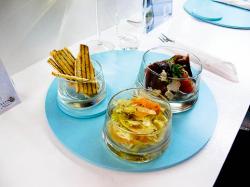 And they are wow when served, of that there's no doubt. My two level dish of a light cauliflower flan with lentils and lardons, served with poached quails' eggs and a fine slice of smoked duck breast, is a melange of flavours and textures that is light and satisfying. The earthy Puy lentils and bacon set against the fluffy cauliflower work well. The quail's egg, cooked in saffron-infused water to turn it a yellow that could attract air-sea rescue helicopters, is a silky treat.
J has a three-tier job- Carpaccio of smoked fillet of beef with Parmesan parfait and slow cooked tomato with garlic, fennel and oak leaf salad. He complains a bit about the practicality problems of getting the fennel salad out of its bowl without scattering it all over the table, but otherwise likes it a lot.
Desserts don't disappoint. Blackcurrant mousse topped with a creamy lemon posset and fresh mango jam served with lemon and lavender shortbread is delicious for J. My fresh pomegranate set in a rose water jelly; white chocolate mousse served with a black forest fudge cherry confit muscavado tuille biscuit is equally fine. Desserts, with their affinity for layering, really suit the Verrine treatment.
Light and exciting, all these dishes suit the female Harvey Nicks shopper down to the ground.Classy and non-fattening in any real sense, they're definitely a glass act
—————-
Franck will be hosting two workshops, to include a tasting menu with a glass of wine and the opportunity for customers to learn how to create verrines quickly at home. Places cost £60, and will include a signed copy of Franck's book, Terrines and Verrines.
The Durobor glassware will be available to purchase, or for those who are looking to cheat at their own dinner parties, a refrigerated counter offering ready prepared sweet and savoury verrines to take away will also be available.