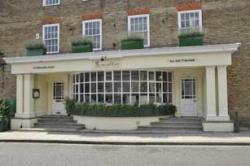 Who better to take to sample an eight-course vegetarian menu than a confirmed vegetarian of two decades? And me, a meat eater increasingly inclined to vegetables?
Losing its Michelin star this year will not deter Roussillon, say the staff of the genteel French Chelsea restaurant. They're hoping fresh blood and head chef Dan Gill will win it back. The twelve-year-old menu is apparently a stalwart with vegephiles and it's certainly rare to find such a thing in restaurants.
Roussillon is one of those hushed restaurants: the dining room, much like a front lounge, is carpeted and velveted which made the voices from the affluent-looking diners even more muted. The restaurant was half full at 8pm on a Saturday night but then, unexpectedly, filled up the later the night became.
There was certainly a profusion of waiters that evening. Our lovely French bread waitress proffered olive breads and bacon breads and looked crestfallen when later, stuffed, we finally declined. The other waiters, all dispatched to various jobs such as grating lime rind or truffle, moved together all night in a wonderfully choreographed dance, never smashing into each other but always gracefully arcing or pirouetting around each other's bodies.
The broccoli veloute was good to start, being light and foamy, the nugget of Cashel Blue cheese melting slowly in the centre. The grated winter truffle, sadly, was a bit of a disappointment all evening, however. Despite getting lavish shavings over this and other dishes, it was dry and lacking taste – apparently they've found a good deal with an Italian truffle seller but I'd be tempted to have a word with him.
The wilted baby gem lettuce with pickled radish, gingerbread puree and Provence figs was a novel combination and soft as a pillow of tissues, very gentle. The lettuce crunch offset the softness of the rest, although the pickled ginger could have been sharper to do a similar thing. The third dish was avocado textures with pickled mushrooms and toasted sesame – just introduced to replace their last dish, pumpkin textures. This was simple and excellent. Some pureed avocado – a relief to taste it pure without it being guacomole'd, and some spiky enoki and other mushrooms complemented each other, a combo I'd never considered.
Some dishes came with a flash of theatricals. The wild mushroom cappuccino with mushroom assiette, coffee jelly and cep veloute involved the waiter gently puffing a muslin bag of mushroom powder over the 'cappuccino", much as you'd sprinkle chocolate over your Starbucks. This was intense and meaty with surprising textures. The coffee jelly disc seeped its coffee flavour in slowly so by the time you'd finished, you almost felt you'd had a flat white.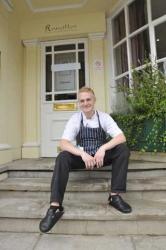 Until now, the dishes had been flying out of the kitchen so we had to slow them down. Then came my favourite dish, number five, the coddled free range egg with parsnip puree and curry oil. Coddled in this case meant cooking the egg sous vide for 60 minutes. Again, in swept the waiter and grated a cloud of lime rind onto the food – it smelt heavenly but I couldn't taste it in the egg – maybe the Chelsea headwinds had dispersed it. This dish was brave compared to the relative safety of the others and the parsnip puree with curry oil – Thai and Madras spices – wafted up a heady fragrance, its perfume halted in rude fashion by the salty, runny egg.
The wine accompanying the food was a Vendemmia Tardiva, Canneto (50cl Bottle), from Tuscany at £37.00 a bottle. It was woody and sharp, neither T nor I were fans at first but it did continue to expand its complexity through the sequence, standing up well to the bombardment of flavours. When we were confused, Samantha the manager was very informative, as was our enthusiastic Hungarian sommelier Gergely.
Heavier now was the Jerusalem artichoke veloute and confit with fresh tagliatelle and winter black truffle. Though still small, this dish was served at the right time in the sequence. It felt like the crescendo, building up textures from most ethereal to most solid and was good and wholesome.
Until now, the portions had been the right size to accommodate the two puddings. Of these, the Yorkshire rhubarb with goat's curd and macadamia nuts was less successful than the wonderful blood orange soufflé – cooked perfectly – with sticky, tickly marmalade and dark chocolate sorbet glistening by its side. A very well-balanced dessert.
If I had to find negatives, I'd say perhaps there were one too many veloutes on the menu and most dishes were lukewarm too, something to consider if you're wanting a hot dinner. T said the food, 'would be good for toothless old people because it's blended," and he was right in that the textures were mainly soft. But that's not a bad thing and T adored the menu. My challenge now is to find more veggie variety like this in other restaurants, would love to hear suggestions.