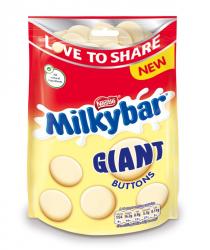 Milkybar achieved something of an iconic status for those baby boomers among us, who grew up with the early TV ads showing a succession of wimp-like Milkybar kids. Each Milkybar kid had a practically white shock of hair, wearing big round Harry Potter style glasses and dressed as a cowboy, declaring at the end of the ad 'The Milkybars are on me!', to the delight of the hoard of other kids in the ad.
Nestlé's recent TV ad campaign for Milkybar Giant Buttons focuses on adults ungrowing-up, releasing their inner kid. Having recently been launched on the market, Milkybar Giant Buttons, is the latest in the Nestlé family sharing bag range so we went out and bought a bag, together with those others we could find from the range.
It was like having a walk through childhood memories sampling these Nestlé products, which were a major feature of our childhood spending. Aero Bubbles milk chocolate balls with their crumbly centre melting as you chew, the Aero Bubbles Peppermint seemed even more minty than before, Toffee Crisp Clusters, with their light chocolate coated rice crisp and toffee centre, giving you initial chocolate and leaving you with that toffee chew at the end and then there were Munchies, the sharing bag version are little chocolate domes filled with sweet caramel and a biscuit centre, they all brought back memories of splurging pocket money on the original bars.
There's something about revisiting those treats you had as a child that inevitably takes you back to the times you used to eat them regularly and voraciously. The Milkybar Giant Buttons are no exception, they are discs of Milkybar chocolate of about 2.5cm diameter that melt quickly on the tongue, leaving you with that creamy sweet white chocolate that you will remember from childhood. And if you hanker after some of those treats you used to have in childhood, these are a good place to start.
Nestlé call this the sharing bag range but, of course, you don't have to share them, they are re-sealable with a zip lock, so if you don't eat them in one sitting, which is tempting, for some of us anyway, you can save the rest for later, or another day.
Milkybar Giant Buttons and the others in the Nestlé sharing bag range all have RRPs of £1.89 and are available widely.
For more information about Milkybar Giant Buttons go to www.MILKYBAR.co.uk
For more information about Nestlé and their range of products go to www.nestle.co.uk