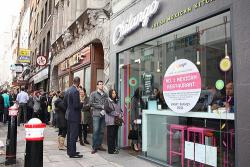 This busy eat in/takeaway café on Fleet Street belongs to a small chain of four regional restaurants serving up a tasty range of the best Mexican street food. There aren't many places in the UK where real Mexican food joints like this can be found. Everything is freshly prepared in front of the customers and the chefs are consistently grilling and chopping away in the open view kitchen. The simplistic yet satisfying menu offers a wide selection of Mexican delights and the varieties and combinations are endless. For fast food, Chilango has set a gourmet standard.
Prices start at around £5.90 for burritos, tacos, nachos and salads. You can pretty much select whichever ingredients you'd like on your plate – same concept as Subway, but more exciting. The burritos in particular are nice and weighty. They will satisfy even the hungriest of customers. I ate one for lunch about three hours ago and believe me when I say I am still very full.
I selected a char grilled chicken burrito with coriander-lime rice, romaine lettuce, fresh red onion and tomato salsa, black bean mix, sour cream, and guacamole (for an extra £1). They also have a spicy bean mix, a selection of sauces and lots of cheese to fill your wrap. I'm a big fan of Mexican flavours anyway, but the fresh produce and generous helpings of each filling made eating the burrito a hearty experience. A lot of sauce might end up all over your hands and face by the way; it's hard not to chow down without spilling its contents
The chicken was tender and light which I really like, but if you're more carnivorous and fancy something a little heavier, Chilango offer the choice of succulent pork or spicy beef steak. There are vegetarian options for all the different Mexican meals and these too are served with decent portions and fresh flavours.
Chilango is popular with busy professionals on their lunch break as well as the leisurely diners. Whether you're grabbing a quick bite or you want to sink your teeth into a big fat wrap, Chilango's bit of Mexican spice makes a refreshing change from the same bog standard chicken salad sarnie, day in day out.