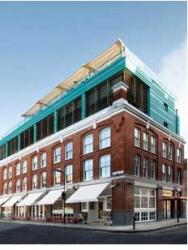 There's a fine line, a boundary if you like, between cool and kitsch and in Shoreditch that line is a tightrope. Terence Conran's Boundary escapes the issue by almost ignoring the Shoreditch vibe altogether. Rather than try and dance with the young 'uns, TC has created a place that is all him and nothing else.
The converted warehouse is unassuming from the outside but step into the reception and you sense TC's presence, a disturbance in the Shoreditch force. You can almost smell the design fixation, the need to do everything right. The man who successfully sold a generation shedloads of French hardware shop tat as 'must have' items, and at ten times the price, is a perfectionist.
That said, the descent to the basement is a bit worrying. Bare concrete steps with walls enlivened either by a local primary school project, or the work of a major artist, take your pick, don't augur well and the small room where you're received even less so. Then you're through a doorway and into design country for sure.
The room is large, the kitchen is on show as TC always likes it to be and the bar area is all Frenchy banquettey things that look like they cost a fortune. The restaurant proper is behind a screen made of shelves and bottles and, a very TC touch this, a bowl of organic lemons piled high in profusion. From the ceiling hang panels depicting some kind of astronomy domini stuff – I can't be more specific but if Aleister Crowley were around he'd probably know. Next time I'm on the ouija board I'll ask him.
Although it's a basement, natural light still comes down from angled windows set high in the walls making the side tables the best place to sit and so we did. We'd actually come to try the Prix Fixe bargain lunchtime menu, but it was all so lovely and comfy and French that we had a bit of a foodie blackout and when we came to we found we had gone a la carte after all.
A choice of oysters made up of natives and English and Scottish and another I can't recall were all deliciously plump, briny and free of shell fragments. So many restaurants manage to not only lose all the seawater but leave bits of shell everywhere, to the detriment of diners' teeth. I actually like my oysters the Charente way with a little grilled sausage on the side, but here a dash of Tabasco was all that was needed. S had loads of Cornish crab done different ways and although he thought it looked a little dull, he loved the sweet meat to distraction.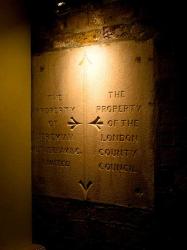 Frogs' legs I've been unsure about ever since seeing a cartoon featuring a legless frog on crutches staring up accusingly at a couple dining in a restaurant. The idea that the chefs might not actually kill the frogs was something I found rather disturbing. But then again they are pretty tasty; nibbly things and an excuse to eat garlic and butter as well as mop up all the puddled crusty remains with bread.
S had the pan-fried foie gras, another classic bit of French non-PC food. I gave him half of my legs in return for half of his liver and thus anatomically arranged we were both as happy as Louis. The foie had the perfect seared exterior, meltingly soft interior and almost raw little central nugget I love.
Now pig's trotter divides people as offal often does. I can't say I care for the look of the thing on my plate and I tend not to eat the skin, but I can't understand those people who order it and then decide they don't like it and even ask for their money back. What did they think it was going to be?
S's trotter had been deboned and the meat taken out and, mixed with sweetbreads and then refilled, braised and served with morel mushrooms. S who likes these things liked it a lot and what I sampled seemed good but nonetheless I wouldn't order it myself. More to my taste was the Daube de bœuf provençale, a classic piece of French country cooking with a rich sauce and fall apart slow cooked meat.
We'd been drinking wines by the glass throughout, guided by Gabriel Danis the Head Sommelier. All had been spot on, although the 2008 Jurançon 'Clos Thou" was perhaps a tad predictable for the foie. The main's choice of 2008 Dolcetto d'Alba, Sandrone was perfect though and as we slumped back and eyed the cheese trolley we had enough left to tide us over.
Prune Clafoutis took a while to arrive, doubtless cooked to order but we needed a break anyway. It was fluffy inside and with a perfect golden halo of a crust. Matched with a glass of Pineau it was just the right weight to finish on.
Boundary is offering French cooking that is classic and cool for those of us who remember when your car had to be winched onboard the cross-channel ferry with your anxious father watching on semi-petrified. Its unashamedly old-school and it is all very good. Boundary isn't edgy and I for one applaud that.
————–
Saturday and Sunday lunch menu
£19.50 for two courses
£24.50 for three courses
Vegetarian menu available
At lunch on Saturday and Sunday, the menu includes a section called 'Specialités du Weekend", – simple dishes such as œufs Bénédicte and œufs à la Florentine, plus brandade with poached eggs and hollandaise as well as black truffle omelette, croque-monsieur and croque-madame.
Rotisserie Les Landes chicken is always available on Saturday and Sunday; similarly, the Sunday lunch menu includes leg of lamb and rib of beef. Plateau de fruits de mer and a choice of oysters also feature, alongside classic recipes such as choucroute garnie, daube de bœuf provençale, confit de canard, and bouillabaisse, with lobster and chips also available.