The Abbeville, 69 Abbeville Road, London, SW4 9JW Tel: 020 8675 2201
As we walked through the door of The Abbeville, we were struck by its old fashioned feel, the main entrance leads to a fairly small bar area, a couple of steps up from the entrance level. As we arrived we were each offered a glass of some soft bubbly Prosecco, which, of course we took and were then invited to take a look around. Although quite large, this Clapham gastro pub has a quaintness about it, made up as it is of a number of small areas, nooks and crannies, and set out on several levels. The decor throughout adds to the 'olde worlde' feel and the pub's overall charm. The furniture is an eclectic mix of mismatched chairs and tables that somehow works, and the overall feel is one of comfort and relaxation. You can imagine diners feeling at ease and relaxing immediately they sit down in this informal setting.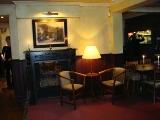 Waiting staff were kept busy during the launch party, topping up drinks almost constantly and then came the canapés, more than a dozen were listed on blackboards, so that the assembled guests could anticipate what they might taste during the evening: it looked an impressive list. Soon the canapés started to arrive, we tasted some delightful little offerings, including warm fig with goats cheese and honey, a nice mix of sweet and sharp; crab soldiers with scrambled duck egg, which was delicate and tasty; great mini burgers; pumpkin and rosemary arancini (deep fried, breaded rice balls); oysters in Bloody Mary; squid and choizo skewers, and seabass and fennel ceviche, to name but some of them.
We looked at the menu and saw that some of the canapés were either small samplers of options on it, or were slight adaptations of menu items. Each of these little tasters were lovely, filling the mouth with great flavours, and we enjoyed each of those we tasted. If these were a taste of things to come for diners at The Abbeville, they are in for a treat and will not be disappointed.
Owned by the same group of local businessmen who own The Bollingbroke, The Stonehouse and The Avalon in Clapham, as well as The White Hart in Kennington (Mark Reynolds, Nick Fox and Tom Peake), this pub lives up to the style and welcoming atmosphere created in those other ventures. If the launch party was anything to go by, the waiting staff at the Abbeville are efficient, friendly and helpful, the atmosphere is great and the menu has interesting and appealing dishes on offer. It promises to be a great place to visit.