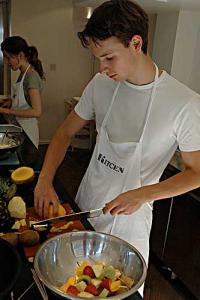 As with the breaking of all bad habits, the first stage, invariably, is admitting that you have a problem. For me this realisation happened a few weeks ago. With the prospect of university looming and my carefully cultivated self-delusion concerning my ability to cook wavering, it all had all become painfully clear: If I were to avoid consigning myself to four years subsisting on little other than baked beans and dubious donner kebabs I would have to bite the bullet and learn to cook.
Thankfully, as my dilemma is by no means a rare one, professional help was close at hand.
What would be more ideally suited to me, then, than The Kitchen University Challenge, a week long cookery course for people in exactly my position run by Swiss Michelin Star Chef Claudio. Surely now I could enter higher education undeterred by the twin evils of malnutrition and food poisoning.
Day One: Chopping.
Upon arriving uncharacteristically early I am greeted by a couple of chirpy waitresses to offer me a coffee while I wait. The Kitchen is decked out with what I can only describe as 'organic chic" and has a warm homely feel about it. My only concern, as I sit and sip my cappuccino, is that the menus on each table are wedged in loaves of bread – does it bode well that restaurant produces bread with minor domestic applications?
As the clock strikes the hour and we are ushered past the counter to the area set apart for cookery courses, my bread-based trepidation is dispelled. After being briefly introduced to one another and to Claudio, our Michelin Stared Swiss pedagogue, we gather round a central table artistically littered with vegetables and herbs and the breakdown of the course is explained. The first two days will be spent mastering – or attempting to master – two of the most important fundamentals of cookery.
Today will be dedicated to the correct uses of the knife and different manners of chopping and tomorrow, to the two most essential sauces used in cookery; the white sauce and the tomato sauce. From then on, we would set about applying this knowledge in more ambitious culinary enterprises culminating with a three-course meal to be prepared on Friday.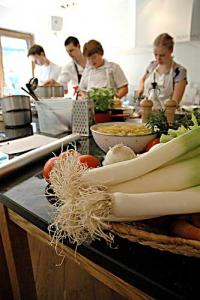 Formalities over, Claudio begins to bombard us with an extensive list of French names for different methods of slicing and dicing which he proceeds to demonstrate before bidding us to attempt to replicate his expert knife work. To my boyish glee, we take up our knives and proceed, with varying degrees of success, to lay into the large pile of potatoes in the middle of the table. Then, having acquired a basic – and incredibly satisfying – grasp of how to chop things up efficiently and neatly whilst avoiding doing the same to one's fingers, we set about preparing the myriad of finely diced and chopped ingredients required for today's dishes; Gazpacho and Ratatouille.
Our work complete – and my fingers thankfully intact – we are given the option of decanting the fruit of our labours into a series of neat Tupperware boxes or – the far more tempting option given the appetite we've worked up – of sitting round the table and eating the food whilst still hot. We all, unsurprisingly, opt for the latter.
As we sit round and tuck in, I cannot help but be astounded but the result of the past couple of hours of cooking. The gazpacho, refreshing and with just the right amount of seasoning, is infinitely more palatable than that which I had ordered frequently in Seville a couple of weeks ago – and praise doesn't come much higher than that. Equally, the Ratatouille is every bit as warm and comforting as one would expect of the French classic. Though I am doubtful as to whether I could replicate such dishes no longer under Claudio's wing, it is testament to his expert tutelage that I managed to contribute producing anything edible at all – let alone food of this standard. I leave Parsons Green heartened and feeling infinitely more confident with regards to cooking than I had a few hours ago.
Day Two: Sauces.
Assembled once again, and following a foreboding preliminary from Claudio "today we are making sauce Bearnaise, you'll soon feel like your arms are about to fall off" we embark on today's project – macaroni cheese and (who knows what we made the tomato sauce for!) with fruit skewers for pudding.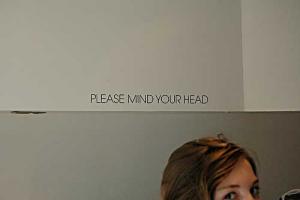 Ten minutes in, Claudio's prediction about the Sauce Bearnaise is soon realised. Sauce Bearnaise, which begins by making a roux, is, as it soon transpires, the most labour intensive sauce known to humanity. Given the more ambitious nature of today's task the pace is much more frenetic and due to the necessary division of culinary tasks between us – Marx would be turning in his grave – I find myself too absorbed in my own abstract task to keep sight of the bigger picture. To be fair, however, this is more a testament to my failure to take notes that to a flaw in Claudio's teaching methods.
A few exhausting, but thoroughly enjoyable, hours later we emerge for our blur of frenzied food preparation and once again gather around the table. To show for our efforts, we have a macaroni cheese with Parma ham, a tomato soup made with freshly prepared chicken stock and a series of fruit skewers. Despite my hunger, my pride and astonishment at having been coaxed into producing such appetizing fare convinces me accept the Tupperware this time round and I head home eager to show my mother what we have managed to produce.
Though I am unable to attend the remainder of the course, given the huge amount covered in the first two days alone, I am in no doubt that had I done so, I would be facing university as a veritable Jamie Oliver.
The confidence – if not competence – I have gained from a mere six hours at The Kitchen, coupled with the course's friendly, laid back atmosphere and pleasant, airy surroundings have made for an experience I would happily suggest to anyone facing the same dilemma as me.
————-
The full five-day course is a culinary combination of soups, breakfasts, brunches, dinners and light bite meals to ensure any teenager will leave the course a Michelin Star student
All utensils, ingredients and aprons are provided and students take away recipes, which they have made over the five sessions to start them off in their first few weeks at university.
To book visit: www.visitthekitchen.com