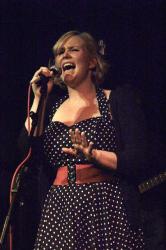 The London blues music scene is having a a bit of a revival at the minute and bars and clubs seem to be springing up all over the Capital. Places to go for a drink or two and hear the blues played live.One of the most popular of these new venues is The Blues Kitchen on Camden High Street.
The Blues and hard liquor go together like Rock and Roll, so it comes as no surprise that The Blues Kitchen has a huge selection of authentic bourbons.We're here tonight to learn a little about this famous drink, and sample four different bourbons. To get us in a relaxed frame of mind we're served a Mint Julip, a refreshing cocktail of bourbon ,mint and crushed ice.
Our guide for the evening is Freddy Donaldson, The Blues Kitchens very own Bourbon Sommelier.Each of our tables has four colour coded glasses of bourbon for us to try.The bourbons tonight are Pappy Van Winkle, Evan Williams, Rowan Creek and Four Roses. (the first three even sound like the names of blues musicians!)
Freddy talks us through the unique qualities of each one, and then invites us to try and match the glass with the bourbon. nobody on our table seems to be a bourbon drinker so its all wild guesswork.The first tastes, to my Rioja drinkers palate very smooth, the second? mmm not so smooth, the third is, argh! liquid fire and the fourth? not too firey but not smooth…er…actually dont know!
In the end we make our choices, well, educated guesses and we seem to have done pretty well for novices, identifying the two most expensive bourbons correctly. Freddy congratulates us all on our efforts and hopes the evening has given us an appreciation of this classic American drink.
Our bourbon sampling over, it was time to kick back and listen to some live blues served up by the excellent Beth Packer and The Black Cat Bones.
NW1 7JN