How the City has changed. It doesn't seem so long ago that the area around the Bank of England had just a smattering of shops and watering holes: these days, the penny has dropped that everyone needs to eat, drink and buy things, and the profile has changed accordingly, although individuality has remained scarce. Into this area, and offering something rather different, comes The Anthologist, from the stable that has produced its sister venues, The Parlour in Canary Wharf and The Refinery in Southwark.
The Anthologist takes the same starting template as its sisters, but then, like them, adds its own twist. The bar area is huge, and on the evening we were there, packed with suited and booted types. The restaurant is also a large area, and again, was very busy, but in addition to the main floor area, there are a number of elevated tables on the perimeter, giving a nice view across the restaurant and bar, including the open-plan kitchen.
The decor has an interesting mix of comfort and function, with the large space and high ceilings creating an open feel. Candelabras on the tables provide a softer lighting that works well with the bigger, brighter spots that are scattered around.
To one side of the restaurant is a small deli, where various produce can be bought, including, we understand, breakfast to take away. This area is also used for special events, such as mixology evenings, which certainly appealed to us. The Anthologist also offers a chef's table, and an interesting self-contained basement area which can be hired out.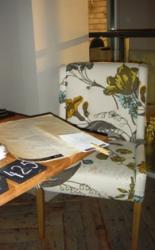 We were shown to one of the elevated tables, which gave us the perfect vantage point to people-watch and to see the activities in and around the kitchen while enjoying a glass of wine.
Knowing that the food would probably be big, we passed on bread and olives, although we were tempted. There's a strong sharing element to the menu, with a number of platters, and we were drawn to the antipasto board, which proved to be a good choice. There was a good selection of cured meats, together with some sun-ripened tomatoes, balsamic baby onions, puglia olives and breads, including an addictive seeded crispbread. It was lovely stuff, and made for a good start to our meal.
Onto mains, the 10oz rib-eye steak was full of flavour, and cooked medium rare as requested, served with nicely crisp chips. The barbeque pork burger was also good, the meat with a delicate but good pork taste, well accompanied by beer-battered onion rings, and a tomato sauce that had a smoky barbeque quality to it. A side order of chips wasn't strictly necessary, but went down a treat.
At this point, we were feeling close to full, so decided to share a knickerbocker glory, which was a real step back in time. Suffice it to say that we made short work of it, even though it was a generously sized dessert.
One thing that struck us was the customer behaviour… we have been to many restaurants that could save on their electricity bills by turning off their lights and relying on the illumination of countless BlackBerrys, as couples and groups do whatever people addicted to the dreadful device do. At The Anthologist, from our relatively lofty perch, it seemed that everybody there was chatting and communicating with the people they were physically with: it created a very lively, buzzy atmosphere, which added to our pleasure.
We each had a glass of South African Chenin Blanc, which was nicely crisp and fruity, and later tried the Barton & Guestier Reserve Cabernet Sauvignon 2008 France, was medium bodied and soft on the palate.
In these days of cookie-cutter shops and wine bars, The Anthologist (along with The Refinery and The Parlour) are doing something different, something which has clearly taken a lot of thought and effort. This alone makes it a much more rewarding experience, and we'll happily go back – anyone for a spot of mixology?