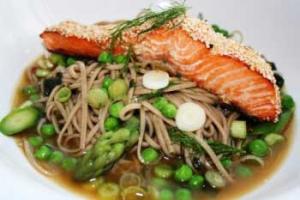 In a bid to fight an oncoming cold, I was searching for some kind of comfort food to fill me with energy and cleanse me from the inside out… Don't worry, I haven't gone all 'Zen' on you, but sometimes greasy, chunky, starchy comfort food just doesn't cut it and you crave something fresh, light and heart-warming.
I always keep Soba noodles in the cupboards at all times, these buckwheat noodles are handy for soups, stir-frys and I love eating them cold with a simple honey and soya sauce dressing and a few sesame seeds. I decided to combine those exact ingredients with some lovely fresh and seasonal and beautifully coral-coloured 'Loch' trout fillets (which you can treat just like salmon) and some new season's asparagus with peas and some lovely fresh dill. I bring the dish together with a delicious Miso soup broth, which is incredibly healthy and very good for you. Well, its not such a bad thing to be good every once in a while, now is it?
If you aren't convinced that this namby-pamby, healthy sounding dish is for you, then you will just have to put it to the test. Admittedly at first I didn't think it would hit the spot either, but the first couple of mouthfuls of tender salty-sweet trout with crunchy topping coupled with a few messy, yet extremely satisfying slurps of soba noodles in Miso soup, were all the proof I needed to make me realise this dish is a winner. Try it and see for yourself.
Serves 2
Ingredients
2 x 110g 'Loch' Trout fillets (you can also use salmon fillets if you prefer)
3 sachets of Miso soup (I use the Sanchi brand)
250g of uncooked Soba noodles (Clearspring brand available at all good supermarkets)
2 tablespoon of sesame seeds
4 tablespoons of light soy sauce
2 teaspoons of clear honey
Generous handful of fresh dill, just picked not chopped
Fresh peas, about 2 handfuls
6 spring onions, finely chopped
8 asparagus spears chopped into 2 inch pieces
Hot water from kettle
A little Maldon sea salt
Method
Place a medium sized pan of water on the boil over a medium to high heat and sprinkle with a little salt. Preheat your oven to 200 degrees and in a small cup mix your honey and soy sauce until the consistency is even and pour over your trout fillets ensuring they get a good coating of the sauce. Using a teaspoon, take a few spoons of the sauce and re-baste the top surface and then gently sprinkle your sesame seeds on top of the trout pieces and place them in the oven and cook for 10 minutes.
In the meantime, add your Soba noodle into the pan of boiling water and cook for 5-7 minutes and then drain and plunge into cold water to stop them cooking further. Using hot water from the kettle, pour 3 mugs of hot water into the pan and add your sachets of Miso soup and mix well and return the pan to a high heat. First add your asparagus, then your peas and finally your spring onions and soba noodles.
Remove your trout from the oven and set aside whilst you bring the Miso soup to the boil and then turn the heat off. Add your picked dill leaves straight into the soup mixtures and using a ladle serve the noodles and vegetables into a bowl and top with your trout pieces. It is so good, there really isn't much else you could add to it to make it more satisfying. Take a bit spoon and either a fork or some chopsticks to help you best attack the fish and vegetables whilst you sup and slurp at the noodles and soup broth. Guilt-free indulgence at it's very best.