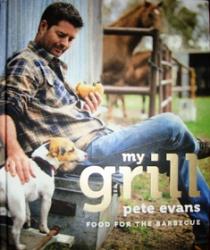 There seems to have been a rise in the female cookery writer of late; of course Nigella has been doing her gastro-voluptuous thing for a while now, but more recently, Ching-He Huang (Chinese Food Made Easy), Ravinder Bhogal (Cook in Boots) and now Sophie Dahl (The Delicious Miss Dahl), have each been an unmistakably female presence.
So it's against the flow that My Grill (subtitled Food for the Barbecue) from Pete Evans makes its debut. Evans is well-known in his native Australia, where he has owned restaurants, and appears regularly on the Australian version of MasterChef – cooking doesn't get taffer than this! – as Greg Wallace might say. I was unfamiliar with Evans until now, but the impression is that he is very much the archetypal Aussie bloke, big on surfing, the barbie and beers. He writes with an unmistakeably Australian voice – and anyone who refers to 'stuffing it up' gets my vote.
My Grill focuses solely on food meant to be prepared and eaten outdoors, and is divided into three sections: Getting Away, Lazy Days and Into the Evening.
Getting Away has recipes for relaxed holiday or barbecue cooking, or even over a camp fire if you're going native, though whether you'd have the right ingredients is moot. From Lazy Days, everything is designed to be stress-free, and to get guests involved in the preparation, while with Into the Evening, the aim is to provide recipes of casual sophistication.
As you would expect, the book very much reflects the food that Pete enjoys cooking and eating. There is a big Asian element, as is quite common with Australian cooking, but also plenty of dishes that take their influence from Europe, again reflecting the country's great ability to integrate with other cultures. A number of ingredients are new, such as hiramasa kingfish, tonkatsu sauce and pipis (shellfish, apparently), but these are mainly fish, and relatively few: most ingredients will be easily obtainable, or have a suitable alternative.
Evans clearly has a liking for big food with bold flavours, and there are some striking ideas: rum 'n' coke ribs anyone? And although Evans is clearly an enthusiastic carnivore, there are enough fish and vegetarian (which he was for four years, so no tokenism here) ideas to give the book a wide appeal. And with warmer weather just around the corner, this is a timely book. So, get the barbie out and pick up My Grill – it might just bring out your inner bloke!
{ISBN:1741965438}