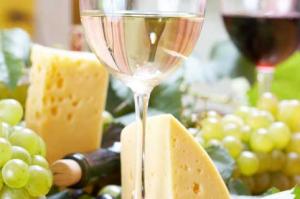 As we try to ditch our winter coats and head into spring with some alfresco dining on our minds, we face the question – which wine will complement the dishes we're preparing? Whether you're opting for a spring salad, some fresh seafood, or a picnic as the sun comes out, there is no need to worry as California Wines can answer all of your needs and show you how to make the perfect pairings.
From the mountains in Sierra Nevada to the bright lights of San Francisco, California is a stunningly diverse state, and one of the best regions in the world to grow wine. The excellent Mediterranean climate in Sonoma County boasts hot days and cool nights, perfect for preserving acidity to make the grapes ripe and juicy. With over 500 wineries throughout the state, the range of wines produced is astounding; including white varietals such as Chardonnay, Sauvignon Blanc and Pinot Grigio, and reds such as Cabernet Sauvignon, Merlot, Pinot Noir, Shiraz and Zinfandel. Californian winemakers claim that each and every bottle boasts a distinctive taste that could only be from California!
You don't have to be a wine expert to put together great food and wine, and there certainly is no need to delve into the tasting notes for each variety in order to get it right. California Wines is delighted to bring you the basic rules for getting the decision right, each and every time you organise a spring gathering!
Seafood is a spring food staple as we welcome warmer weather and move away from the heavier, winter food we have become accustomed to. However, when thinking about wine to match, it is crucial that you don't pick a wine that will overpower the mild taste of the fish. A light and airy wine such as Beringer Sauvignon Blanc will suit the soft flavours in fish perfectly. Chardonnay is also a fantastic choice, as a general rule, but steer away from wines with oaky undertones, as they may overpower the delicate fish flavours.
We don't want to break taboos, but an old rule that we can do away with is that red wines do not go with fish. In fact, a finely-posed Sonoma Coast Pinot Noir such as La Crema can go fantastically with salmon, so why not try it and see what you think?
As we all know, a spring and summer favourite has to be the barbeque; there is no better way to dine with friends and family during the sunny months. As you would expect, partnering meat is a task for a hearty and full-bodied wine such as a Merlot or Shiraz. If you're attempting beef and steak, then Cabernet Sauvignon is a solid choice and some fantastic options come from the Fetzer and Robert Mondavi Vineyards. For classic sausages and burgers, you can't go wrong with a good Zinfandel; a wine which also goes well with grilled Portobello mushrooms and lentils as a useful vegetarian alternative.
Chicken is a fun meal to match wines with, as it can be cooked in so many different ways, prompting different wines. Chardonnay and Pinot Noir go particularly well owing to their softer flavours and textures, but if your chicken has a strong flavoured sauce, it should be able to handle reds like a Cabernet Sauvignon or a Merlot. Why not try Cycles Gladiator Merlot? A Riesling is also a great choice if you're thinking of adding a touch of spice to create a barbeque with a bite!
For those summery pastas and salads, a light white wine is always a good match. A Pinot Grigio or Chardonnay for a nutty dish will be a favourite as you enjoy a spring evening. If you're going for a red sauce with your meal, a full-bodied red wine such as a Zinfandel or Shiraz will certainly complement.
If you're struggling to remember which wine is best for which dish, just remember these simple rules:
Match lightweight wines to light dishes and full-bodied wines to stronger dishes
Salty and sour tastes make wine taste milder and sweet tastes make wine taste stronger
Where you can, match flavours in the food to flavours in the wine
Whatever dish takes your fancy this spring, just remember that a Californian touch with the wine choice will open up an array of options guaranteed to please the palate!
For more information on California Wines visit www.discovercaliforniawine.com
Advertorial