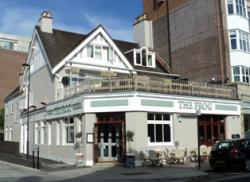 Clapham Old Town isn't short of watering holes, but then there's a lot of demand. One long-established bar, The Frog and Forget-Me-Not has recently had a major make-over and re-launched as The Frog, a new gastro pub.
It was only when we approached The Frog for the re-launch event that we realised that we must have passed it a number of times before, but never noticed it. Well, it's much more noticeable now: the exterior is light and inviting, with a fresh feel to it, and having been drawn in, the interior maintains the appeal. The ground floor is huge and has been decked out with furniture that doesn't exactly match, but which all comes together to create a comfortable space: higher, bench-style seating and tables are great for smaller groups, and although TVs are dotted around, they aren't obtrusive, An added bonus at The Frog is the upstairs terrace; a good-sized space, with a nice view over Clapham Common and again, a relaxed informal feel to it.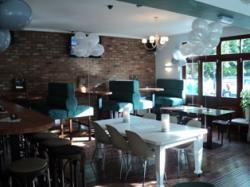 We were offered a variety of drinks, including a rather lovely Cosmopolitan, which set us up for the evening. We also tried a variety of food, all of it representative of what is on offer at The Frog and an interesting mix of the expected and the unexpected. First up, chilled pea soup was light and refreshing, it would make a great starter, or perhaps a light lunch dish. Crab cakes are something of a bar-food staple, but the mini ones that we tried were very good, moist and full of flavour, with a dab of pepper mayo atop giving a contrasting richness. But next was a surprise, foie gras on a crouton, which was rich and tasty. Fish and chips were a small but perfectly formed portion, the fish in a good light crisp batter and the chips had excellent crunch. There were also oysters and giant prawns, adding another touch of luxury to proceedings, while shepherds pie was hearty and delicious; good-sized chunks of meat topped by creamy potato. Mini-hamburgers looked fabulous, but were a little more than we could manage.
Throughout the evening, the atmosphere was very comfortable; buzzy, but not to the extent that conversation became difficult. Having already had a long day, we had only planned to stay for an hour or so, but eventually staggered into the night some four hours after we had arrived. We might have overlooked The Frog in the past, but it's now definitely on the radar, and if you're in striking distance of Old Town Clapham, it should be on yours too.
The Frog, 32 The Pavement, Clapham Old Town, London, SW4 0JE Tel: 020 7622 5230 www.thefrogclapham.co.uk