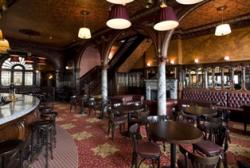 Having been invited to a Gordon Ramsay place for something to eat and to drink, well you go, don't you? We were asked along to The Warrington for a pie and a pint and a look around after some work had been done on the place. Sat in the heart of Maida Vale, close to both Maida Vale and Warwick Avenue tube stations, this massive pub was built as a hotel during the reign of Queen Victoria in 1857. The bar area on the ground floor boasts many original features as well as others that have been added over the generations, the latest of which some art deco, French style murals added in the 1970's. Somehow the eclectic mix of styles, that are brought together in this cavernous pub, seem to work harmoniously together. The bar area has a stunning grandeur that is an absolute pleasure to sit in and be part of, it is clear to see that it has, over the years and recently been lovingly cared for and maintained.
With our pints in hand we sat at a table and were brought our pies, they didn't look that huge but these two hearty pies were packed full and much more substantial than they looked. The game pie had a good crunchy pastry case that the filling of tasty venison and other game meats, which had clearly been slow-cooked until they were melt-in-the mouth, was packed into and topped off with a lighter pastry lid. Served with some lovely velvety smooth mash a few vegetables and a small individual jug of excellent gravy it was seriously good. The cottage pie, had a similar crunchy pastry case that had been filled with a good minced beef in a sauce that had a slight onion sweetness to it and was topped off with mashed potato that had been nicely toasted in the oven. It was accompanied by some mushy peas and its individual jug of gravy, like the venison pie and this too was really good. We were feeling quite satisfied having eaten our pies but then came desserts! A lovely individual tart tatin, which was indeed tart, with some good vanilla ice cream and a crème brulée that had a light crisp topping over its vanilla cream base, this was served with some crisp but crumbly shortbread biscuits. Both of these confections were divine.
After feeding ourselves, we took a look at the restaurant on the first floor of this imposing building. The restaurant has an entirely different feel about it, modern in style it has a simple elegance that looked very appealing, certainly a place where you could relax while you ate.
The bar staff that we spoke to were really helpful and obviously very attached to the place acting, as they did, a little like curators/guides explaining different features to us when we asked about them, they were a delight. It is hard to say whether The Warrington is unique but I would hazard a guess that because of the way it has been sympathetically developed over its 150 year history that it probably is. It is certainly a place that should be seen. Take a look at what they have on offer, using the link below, go and visit, even if just for a pint.
The Warrington, 93 Warrington Crescent, London, W9 1EH Tel: 020 7592 7960 www.gordonramsay.com