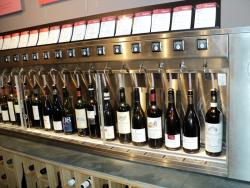 Together with a select group of food and drink writers I was invited recently to Vagabond Wines to sample some of the wines that owner, Stephen Finch, considered particularly special among those he has on sale at this unique, perhaps groundbreaking shop.
Vagabond's uniqueness is that practically all of the wines on sale in the shop are available for sampling from cabinets that keep the wine at the optimum temperature for drinking. The wines are delivered automatically through pneumatically pumped taps which dispense measures of either a taster or a glass dependent on which you choose. Would-be customers can purchase credit on an Oyster type card, the machine reads the level of credit on the card and deducts from this the appropriate amount, according to the measure chosen and the cost of the wine. This allows the customer to taste any wines they are interested in before buying a bottle. So, having been given a card with £10 credit, I was left to decide which wines I would like to try.
In all I managed to try seven wines before my credit ran out and two of the highlights were the Jules Taylor Sauvignon Blanc which had a great fresh crispness to it, big passion fruit aroma and great fruity flavours on the palate. I also particularly liked one of the reds, the Weingut Gottardi Blauburgunder Mazzon, a lovely Pinot Noir which had big blackberry notes in its bouquet and on the palate and a lovely silky mouth coating quality with low tannins, a delightful wine.
Vagabond are developing what they have on offer to their customer, Stephen has made arrangements with a local delicatessen to provide platters of food on request – at a cost, of course. There will be more seating in the shop, and outside it during the warmer months. This will enable customers to enjoy a glass of wine, or to sample as many different wines they wish to, whilst making their way through some lovely Italian meats and cheeses, as we did that evening. This is a great development for Vagabond and I'm sure one that will prove very popular. If I lived nearby, I'm sure that I'd make regular use of it. Sadly the trek back to Crystal Palace makes it a less attractive proposition.
Vagabond Wines, Vanston Place, London, SW6 1AX www.vagabondwines.co.uk