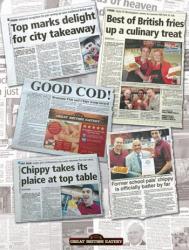 This review has wound me up more than an injury time United equaliser. I've been hammering square punch lines into round set ups and definitely not set myself an easy task – trying to explain to all who read this article that maybe, just maybe, there is a better alternative to their favourite chippy.
Fish & chips, in my opinion, is the national dish. Hordes of Birmingham lager drinkers will yell 'curroy" in objection, whilst hangover victims nationwide state there's nothing better than a full English. I don't agree. Arguably the most notable dish that the rest of the world associates with us is fish & chips.
It's a known fact that if you don't have a favourite chippy then you live in sin. Mine was located over 100 miles from home, until I found a new favourite, The Great British Eatery, which is conveniently positioned in my home city; and even more conveniently – they deliver.
I hadn't told my accomplice, Mr Mud, that the fish & chip shop we were visiting was licensed. The revelation went down really well, as did the locally sourced Purity ale, recommended to accompany our starter of white bait. It's a fish that I didn't associate with good memories. Portugal, beach restaurant and maggots – I'm not saying any more. These, however, were fantastic
Every fish is cooked in beef dripping, a long forgotten technique that only the most dedicated chefs adopt, and the white bait showcased the flavour brilliantly. The light, crunchy batter slapped the palate into action, detecting subtle beefy hints. The simplicity of ingredients in the batter mixture meant the whitebait taste wasn't lost. A splash of fresh lemon took the combination up a notch; then gently washed down by a crisp, ice-cold gulp of ale proved to be a winner.
I got rid of the thought of a tasting sample menu quicker than a chav in a Saxo. Despite Mr Mud's repulsion I'd seen something on the menu I had to try, a black pudding fritter – not to everyone's tastes I admit but I almost ordered another two. I did try a couple of his onion rings, which were in his words, 'freaking awesome" and indeed they were 'freaking awesome", (good critique, Mr Mud).
Enough flirting with the appetizers, bring on the daddy. Cod & chips, curry sauce and mushy peas – I love you England. It arrives in a biodegradable, cardboard box, designed to keep the batter crisp. It was a mighty piece of fish, lying seductively on a bed of twice cooked chips- Oh you little beauty
The beefy batter taste engulfed the mouth once more, dancing with the flavour of the succulent flesh of the fresh cod. The chips really had a strong potato flavour to them, which I understand sounds silly, but chip shops often overcook their chips or use poor quality spuds. These were crunchy and sprinkled with a precise pinch of salt. There was nothing wrong with the homemade mushy peas or curry sauce; the dish just didn't require them.
Completely stuffed and feeling ready to watch the afternoon football, I revealed to Mr Mud how I'd stumbled across the website and read declarations such as 'voted England's best fish and chip shop 2010" and 'We do not sell kebabs, pizzas or southern fried chicken – only British dishes using British ingredients".
I'd spoken to co-owner, Conrad Brunton, to let him know of my interest in a review. He's a very informative, passionate chef, whose CV includes work at the Fat Duck and Simpsons. Brunton is known in Birmingham as a man who networks well and is always available to help charitable causes without seeking the attached PR. I experienced this rather baffling benevolence first-hand when Brunton offered to help me get a booking at a top restaurant for a private lunch, despite not even knowing me or that I was in fact a restaurant critic
The Great British Eatery is a fantastic fish & chip shop, run by a fantastic staff and continuing to receive praise. Definitely worth a visit if your in the area and definitely worth a delivery if your company is stuck for lunch ideas