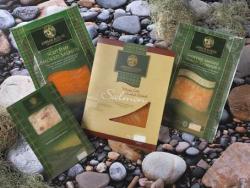 Ghillie & Glen, the Scottish seafood brand, has launched a new range of seafood products, specifically for those seafood lovers who appreciate the finer things in life.
The new range, including Whisky Oak Smoked Scottish Salmon and Scottish Island White Crab Meat, is exclusive to Waitrose and can be found in stores across the UK. The new range joins Ghillie & Glen's Scottish Smoked Salmon, which is oak smoked for up to 12 hours to achieve its rich melt in the mouth texture.
The Ghillie and Glen range is smoked in Scotland by expert salmon smokers who have spent years perfecting the art. Established over 30 years ago, Ghillie & Glen has a rich heritage and is named after one of Scotland's oldest type of smokehouses. Thoroughly embedded in Scotland's history, smoking was once used as a food preservation method. Traditionally Scottish estates had their own smokehouse, smoking a wide range of food from both land and sea and the Ghillie looked after the estate and its lochs.
The Whisky Oak Smoked Scottish salmon is produced using a more traditional method of smoking; cured fillets are hung up for up to 24 hours and smoked over reclaimed oak whisky barrel shavings. This produces a richer, more complex smoke with a velvety texture and each fillet is hand trimmed. The highest quality Scottish brown crab meat is used in the Scottish Island White Crab Meat. It is caught by fishermen around the Islands of Scotland passionate about the industry and who work hard for a sustainable future.
Roy Cunningham of Macrae Edinburgh said: 'We are delighted to be able to offer our range of premium seafood exclusively to Waitrose, offering customers a far superior eating experience. We are extremely proud of the heritage of our Ghillie & Glen brand. Our expertise has been developed from decades of perfecting the art of salmon smoking, using only the best quality farmed salmon. Our Scottish Island White Crab Meat in particular is a favourite with chefs from around the globe due to its succulent and sweet taste."
About Ghillie & Glen
Ghillie & Glen Scottish Smoked Salmon is produced by Livingston-based Macrae (Edinburgh) Ltd using only the finest Scottish farmed salmon from the fast flowing waters around the West Coast and Islands of Scotland. Supplied exclusively to Waitrose branches throughout the UK, the salmon is reared to the highest welfare standards and sourced from suppliers who employ farming methods that are respectful of the environment.
Reducing negative impacts on the environment is something the team at Macrae is passionate about and the company has made major strides in reducing waste to landfill and becoming more energy efficient as well as helping to maintain a nearby nature reserve. More recently Macrae Edinburgh was awarded the Scottish Food & Drink Award for Environmental Sustainability for work on reducing its carbon footprint.