1 New Change, St Paul's, London, EC4M 9AF www.barbecoa.com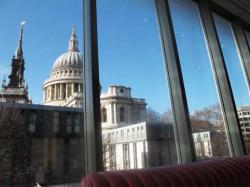 It's hard to look at St Paul's and not think of the famous photograph of this London landmark taken during the Blitz. Wreathed in the smoke of burning buildings it stands miraculously unscathed. Somehow this giant target never received a direct hit.
You could say the same about Jamie Oliver, a big target that a lot of people regularly chuck bombs at but who, somehow, always remains in one piece.
Barbecoa, the restaurant he opened next to St Paul's with Adam Perry Lang, has been on the receiving end of a fair bit of critical flak since it opened yet it's far from destroyed. On a sunny lunchtime with a hint of spring in the air, the sun blasting through the high windows and City people packing tables and tucking into attractive looking food, it seems a winner.
Its location is a bit strange mind you. One New Change feels like a Croydon shopping centre relocated to the City. On the upper deck where Barbecoa is located there's also a Nandos, a Byron, an Eat and a Zizzi. There is also, ominously hovering like the Death Star, a place not yet open but, according to the signs in the blacked out windows, soon to be a new Gordon Ramsay outlet.
Barbecoa looks good. As soon as you walk in there's a busy bar and beyond that a dome-only view of St Paul's through the windows. The first part of the restaurant is all semi-Chesterfields in Doc Marten plum colour while the seating around the corner gets a bit more basic and functional. The leather land is definitely the place to land your rump if you can.
An open kitchen built of naked brick affords the sight of the wood-fired ovens, Japanese robata grills and Texan smokers that make this place special because this is, as the name suggests, a restaurant focusing on flame and smoke.
Barbecue is of course not what we Brits think it is; it's not grilling a chicken leg under a leaden sky until it's burnt on the outside, raw on the inside and destined to send guests home with food poisoning. Barbecue as practised in its heartlands, such as Kansas City, is all about two words: low and slow. The meat has to cook in a sealed environment at a low temperature and for a very long time. For me the American way with pork and wood smoke makes the best BBQ in the world.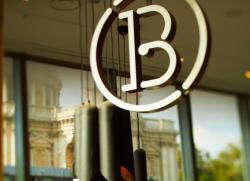 Although Adam Perry Lang is in charge, hints of Jamie are on the menu as in 'Amazing Pickled Vegetables'. Let's face it only Jamie could write something like that and expect to be taken seriously.
Otherwise the menu reads interestingly enough, even if BBQ isn't the first word that comes to mind. The only real hint is the addition of Baby Back Ribs on the starters list and Short Ribs on the mains.
Bread first – Tandoori bread, sourdough, rosemary toast and pumpernickel, all skewered on a wooden stick so that they arrive looking like an Ascot hat. They're very good indeed, although I've never liked pumpernickel. Is it even a bread?
The baby back ribs are gorgeous. The ribs pull apart easily, as they should, and the meat is spicy, salty and has the smoke ring under the surface that denotes good cooking. I absolutely love them and cannot understand why the option to have a much larger portion as mains is not on offer. And where are the 'burnt ends'? You have to have burnt ends in a rib place. No sauce either, which is a shame as ribs should always have a sauce, but the salad of shredded cabbage and apple with a citrus dressing is just right to balance the meat.
I liked the look of the squids I saw swimming past. The whole body semi-sliced into rings so that it looked like a ghostly toast rack with singed bits. Squidy likes fire. In an ideal world I'd have had that squid for starter and a Fred Flintstone rack of baby ribs for mains.
Instead it was rump steak, the Barbecoa's burgers looked good in a modern, designery, don't-dare-call-us-chav way, but I'd had one the day before at Byron and one burger a year is quite enough for me. Steak is a burger for people with teeth and here it came sitting on a smoky aubergine puree with tomatoes, chilli and marjoram.
But who cares about that, what about the steak? Well it was almost cooked the way I like it, the waiters should learn to recognise the instruction 'a point'. It's not quite the same as medium rare, as any decent chef knows. However it had a lovely charred exterior and the meat was juicy and, after a false start at one end, became very tasty indeed.
No chips for me, but instead an excellent bowl of vibrant cavolo nero, a powerfully bitter winter leaf that had been merely waved at the boiling water, as is correct, and then dressed with a simple but effective combo of umami lavish anchovy and a waft of rosemary. Equally good were the cannellini beans, which had the mealy texture of beans cooked from dried and a hint of the herbs they had been slow-cooked in.
And that was that, no time for dessert but instead back to the West End and away from all the bankers.
Is Barbecoa as bad as some people say it is? No, that's just Jamie and banker-bashing mostly. Service could be a bit sharper and adding some more Southern classics would give them a bigger USP. Maybe taking J.O.'s name off the door (metaphorically) would also allow Adam Perry Lang, who clearly knows his stuff, to stop taking bullets intended for the boy wonder.
For the ribs alone, the All Clear should really be sounded on Barbecoa, it's getting staunchly onto its feet and emerging blinking into the sunlight.