I probably wouldn't have gone, but having been invited for lunch at the McGuigan wines stand, I decided to go, I'm a bit of a tart when it comes to lunch invitations. Decision made, invitations to attend a 'seminar' at the Friuli stand for a Pinot Grigio tasting and to meet with Steven Spurrier about the Decanter World Wine Awards soon came in. Suddenly it had become a full(ish) day.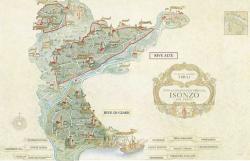 My first port of call was the Friuli stand, to attend a Pinot Grigio tasting led by Anthony Rose, wine correspondent from The Independent. Now, I've tasted many a Pinot Grigio over the years and have generally found them fresh and bright, but not exactly brimming over with flavour. This tasting was a bit of an eye opener, as the six wines from the region that featured in it were vibrant and bursting with flavour.
So, to the wines, the Angoris had a fresh sharp fruity citrus nose to it, with green apple and lemon coming through on the tongue, it's a lovely tangy wine with good length. The Lorenzon I Feudi Di Romans conversely had a much softer rounder nose but delivered nice acidic fresh yellow fruit flavours and some 'bite', it had good length in which green apple came through. The Sgubin Renzo had an aroma of fresh green fruits and on the palate pear came through well, with a fresh tingly acidity, a wine that is fresh and bright yet with big flavour and good length in which fresh fruity pear prevailed. The Musat Da Rive had a soft but fresh bouquet, and in the mouth had an effervescent quality, it has a nice tangy yellow fruit acidity and a fresh length in which a slight bitter heat develops. The La Bellanotte had toffee/caramel notes in its nose as well as an acidic edge, on the palate it had soft rich caramel notes yet has some good tang and a flavour reminiscent of crème caramel lingered on the palate after swallowing. Finally the Tenuta Villanova had a fresh acidic pear fragrance and fresh pear/peardrops acidity on the palate, a clean tingly wine with a nice length in which grapefruit zestiness developed on the tongue. These were some excellent examples of Pinot Grigio and I would absolutely be more than happy to drink more of them.
Next was lunch at the McGuigan stand, where I got to taste some of their excellent Shortlist range again, as well as some of their other excellent wines. This was a very pleasant relaxed interlude chatting, over a bite to eat and the odd glass of wine, with Neil McGuigan and the odd Wine expert, away from the bustle of the fair.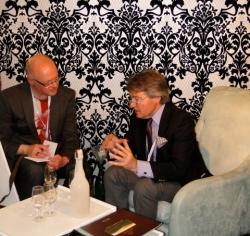 I moved on to find Steven Spurrier, the incredibly well respected Chairman of the Decanter World Wine Awards, who had agreed to have a short chat with me. As we sat at the Bisol stand, each sipping a glass of Cartizze Prosecco, Steven gave a brief history to the awards. He told me they started in 2004 with an entry of some 4,500 wines and have grown over the years to the 2011 entry being well in excess of 12,000 wines from 44 countries, making the Decanter Awards the biggest annual wine competition worldwide. In judging this year's competition, Decanter drew on the expertise of 211 wine experts from 23 countries, some 20% of the world population of Masters or Wine, a pretty impressive organisational feat.
Steven said that the competition rules have remained the same since its inception and judges grade the entries worthy of merit into gold, silver and bronze categories, depending upon their quality. He told me that the Awards are essentially consumer oriented, but said the judges also help producers develop their wines through feedback from their tastings, a kind of holistic approach, hopefully benefitting both producer and consumer in the longer term. As to his role, Steven told me that he doesn't take part in the judging, but acts in an advisory capacity, discussing with individual panels how they might break a deadlock, if one arises.
Looking to the future, Steven said that he was confident that the competition would continue to grow and that he considered it would only ever be limited by the ability to judge the number of entries they receive. I have to say, Decanter are to be congratulated on this record achievement, clearly the number of entries is an indicator of the level of respect that wine producers have for this particular competition. Long may they continue to be leaders in the field.