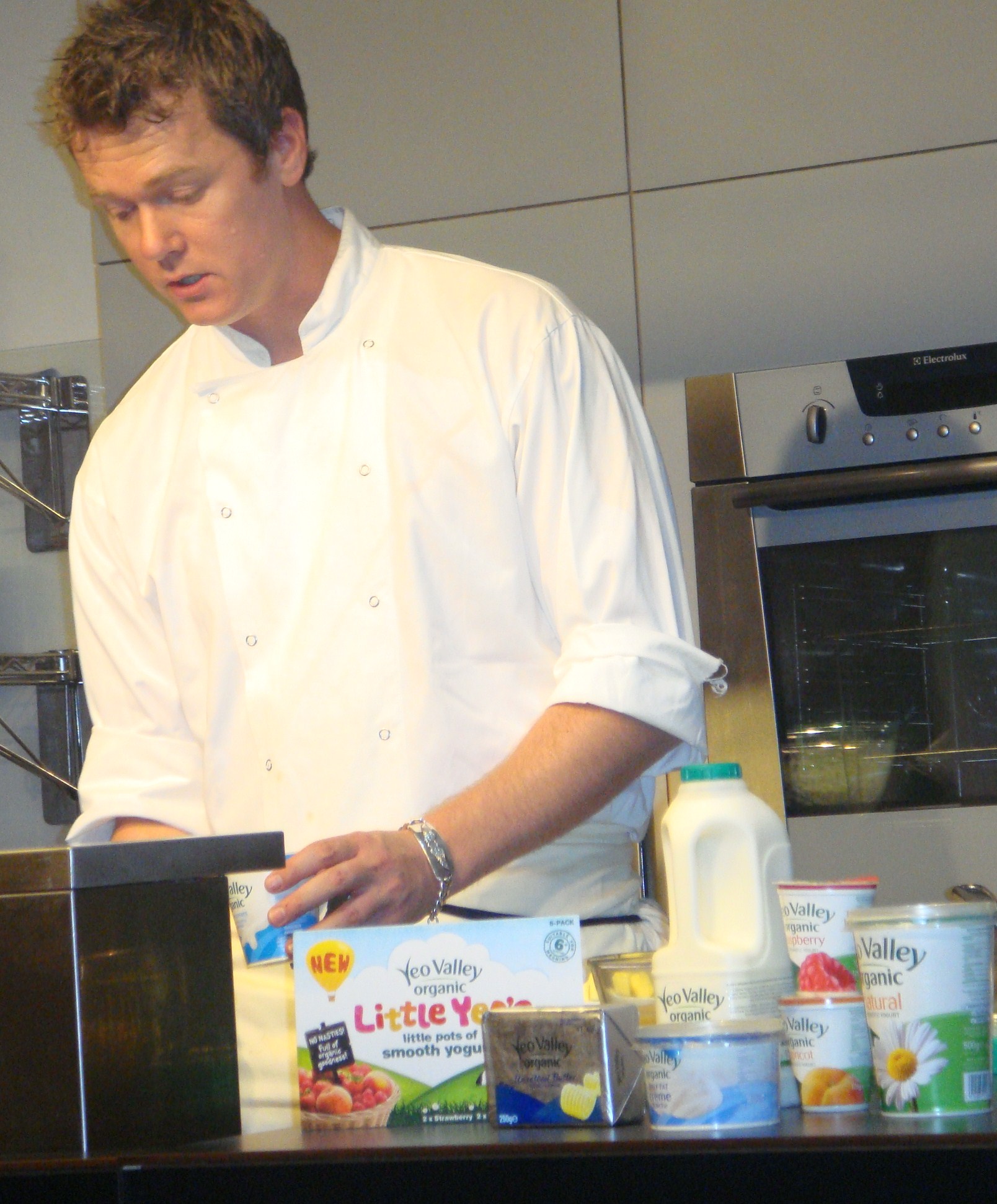 The lower ground floor lecture theatre in Waterstone's, Piccadilly was the setting for aYeo Valley Organic Master Class recently. The main feature of this was a cookery demonstration by the executive chef of Acorn House restaurant, Arthur Potts Dawson, in which he used Yeo Valley produce as part of the make up of each of the dishes he prepared. Before the demonstration we were told about the Yeo Valley range, the health benefits of eating organic and given a potted history of Yeo Valley, its development and the pride they have in producing only organic products. Almost in its entirety Yeo Valley produce comes from their own farms to the south of Bristol where they use only a small number of permitted pesticides on their land and few antibiotics for animal welfare, rigidly keeping to organic production techniques and stringent guidelines. Following this, with a little help from his able assistant, and the occasional 'Here's one I prepared earlier' Arthur set to the business of preparing what was effectively a three course lunch for those in attendance as we watched and threw the odd, and not so odd, question at him.
On Arthur's menu was a cannellini and porcini mushroom soup starter which aside from those two ingredients also incorporated olive oil, garlic, onion and parseley. He served the soup with some garlic rubbed bread and butter and a generous spoonfull of Yeo Valley organic wholemilk yoghurt. It was a pretty tasty dish and the yoghurt contrasted nicely with this rustic concoction. A useful tip here was that when re-hydrating the mushrooms, don't use the liquor that remains, this is usually a sprayed on flavour enhancer and detracts from the real taste of the mushroom.
His main, loin of pork cooked in milk, was flavoured with salt, pepper, sage garlic and lemon rind, slow cooked on the hob and basted regularly during the process. Whilst I'm not a lover of slow cooked meat, I much prefer meat to have a juiciness, it did remain tender and the lemon gave the dish a freshness that worked well with the other cooking ingredients. Arthur served this with creamed lentils and spinach fritters. The lentils were tasty and a little al dente, made creamy partly through the cooking process but also through the addition of some double cream, the fritters, were nice little crispy dumplings, although having just used spinach could have done with a little more flavour.
A dessert of white chocolate and praline mousse with sliced banana and butterscotch sauce. Was both rich and decadent. A dark chocolate praline formed the base for the white chocolate, gelatine set mousse. The slightly bitter butterscotch although in itself rich from the cream and butter the burnt sugar somehow offset the sweetness of mousse.
The recipes for the dishes Arthur prepared can be found through the hyper links above, if you would like to know more about Yeo Valley produce their we site is at www.yeovalleyorganic.co.uk where you can find more recipes that use their excellent produce.