Zia Teresa 6 Hans Rd London, SW3 1RX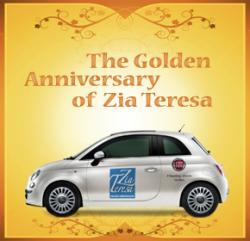 Restaurants often lay claim to being the oldest something or other. Bizarre – as I increasingly slip into that category I'm not going to shout about it. This fortnight, I've been to London's oldest Hungarian, the earliest French, and now, Zia Teresa, the first to plant its boot shape into the city's culinary foundations.
With age comes comfort, at least in Zia's case. Though it faces the side entrance of Harrods, it's more homely than homily or indeed, overblown grandiose. The walls sport lacquered pine paneling and trellises with bottles of wine in place of pictures. The waiters, the more distinguished of whom were surely there from the start, are unaffected and sweet. There's also an endearing blue sky Trompe l'oeil – I attempted this in my bedroom as a teenager, you see, homelier on every bite.
Zia Teresa has just celebrated its golden anniversary and to commemorate is serving a retro menu including Lasagna al Ragú (lasagne with a traditional beef ragu, bechamel and parmesan) and Pollo alla Cacciatora (traditional chicken casserole with onion, celery, olives, tomatoes, carrots and chilli). Very unfortunately, it wasn't available the Saturday evening we went because of 'technical difficulties" though it is on until the end of November. Never mind, it was entertaining enough just guessing the relationships between the gap-year, designer-clad locals in their two-, three- and four-somes.
So we started with antipasto della casa, made up of parma ham, salami, mozzarella, artichoke hearts and grilled vegetables. All hearty and simple, great-sized portion, as was my selection of Tuscan cured meats with focaccia. Truth be known, the only reason I'd ordered mine was to try the lard and cured pig's jowl, what else? But sadly the waiter couldn't tell me which was which. Fat is fat is fat and in this case, yummy with oregano.
No question of identity when it came to the house speciality fettuccine della zia, pasta tossed in cream of white truffle and radicchio trevigiano. Such bitter and pervasive shroominess, mixed well through sticky cream, made this dish headily addictive and gorgeous. So too was my linguine alle vongole veraci – clams in a tomato sauce with garlic, parsley and chilli. The linguine had been rinsed in a delicate liquor without the usual clumps of claggy tomato. Deliciously spicy, too. Both these dishes clang in at only a tenner or so and are very good value, we thought. We left after some giant gelati in retro cocktail glasses, a little lardier than before and just a little older.