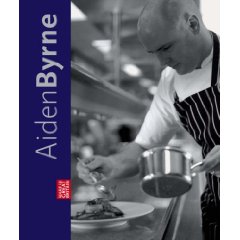 Go into the Dorchester for a bite to eat and you can turn one of two ways; into Ducasse at the Dorchester for a some wallet-busting and, in my opinion pretty ho-hum, fine dining or you can swing into The Grill where Aiden Byrne, Michelin starred maestro of the cunningly simple, brilliant dish, is in charge.This book's title says it all. Aiden himself a native of these islands is a passionate advocate of our produce and our style; he would love to see more British cooking in restaurants and in homes and this book will hopefully achieve the latter.
As he says in his typically thoughtful introduction, you do need to shop around to get the best ingredients and that does involve investing some time and effort. But let's not forget the internet, you may not live next to a marvellous market but so much is available at the click of a mouse, you just have to plan ahead.
His 150 recipes here can seem tricky, he has set them out as he would serve them in the restaurant, but he makes it clear these are simply guidelines. Use your own taste buds and season the way each dish demands at the time.The dishes sing off the page with starters such as Tomato Confit and braised lettuce tart with a braised lettuce and courgette puree. Those looking forsomething simpler could do worse than make his Tomato and Peach salad with Pine Nut Vinaigrette. You don't have to fiddle about as he does making shapes out of the tomatoes, that's for the paying customers, you can cheat and the dish will still delight.
A beetroot and Vodka risotto requires only that you bake the beetroots in advance, Aiden also suggests lettingthe risotto go cold, shaping into small balls and then deep frying in a tempurabatter. How nice does that sound? Of course there are dream dishes better named Dream On! Dishes, such as White Chocolate and White Truffle risotto with Pan-fried scallops, but overall the combination of informative chapter intros wher Aiden meets local suppliers, great photos and plenty of do-able dishes make this as much of a winner as Aiden himself.
A quality cookbook from a quality chef. Rule Britannia!
{ISBN:1847731600}