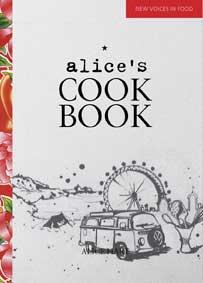 Although the title might claim that this is 'her' cook book, Alice Hart's recipes encourage you to make her creations your own: 'Really, where's your sense of adventure?!" Miss Hart exclaims to us at one point, encouraging the reader to alter quantities at a whim.
This tone of encouragement and enthusiasm permeates the whole collection; when Alice isn't comparing root vegetables to characters from Doctor Who, she is sharing stories of her coriander-hater brother, Ian, or cheekily catching the reader out, when she acknowledges that they probably didn't bother reading the recipe introduction.
The recipes are clustered into meals rather than organised according to courses. This creates a suggested menu, with oven temperatures in sync so you don't have to frantically heat up and cool the oven down in the same meal. There is also a rather helpful time plan, so the pumpkin crescents don't overcook whilst the duck is roasting. It's all rather wholesome, young and funky stuff, divided into lifestyle sections on Breakfast and Brunch; Picnics and Camper vans; Seasonal Sunday lunches; Suppers; and Parties. You get the sense that this is how Alice lives her life; tootling around the South Downs in her camper van and whipping up brunch for twelve friends the next day.
Although this may sound sickeningly impossible for most of us, Alice's recipes make it achievable. Yet here is the main difference between a professional chef who has time to spare, and a novice left floundering in the kitchen: preparation. Right from the introduction, Alice admits that preparation is the secret, and this is evident in all her recipes. If soaking oats or making marinade in advance is incomprehensible, then this might not be the book for you. If you're a keen home chef, however, who loves to share her spoils, and you're willing to put in time early on, like the professionals do – then this book could unveil a revolutionary way of cooking.
I tried out a couple of Alice's recipes last weekend when I went camping. I normally feel pretty smug just knocking up some pasta and pesto, but I decided to venture into the Woodland Potato hash with eggs as a campfire supper. I had trouble keeping the camp fire to 'medium-high heat' as requested, but otherwise the crispy satisfaction of garlic and thyme potatoes with squishy porcini mushrooms was worth the advance prep. The Green Curry Salmon was a fireside luxury, as I made the curry paste at home, and just swirled the coriander and lemongrass paste into some coconut milk, to make a quick, fragrant lime-based curry. The baked whole brie is also an excellent idea for campfires, and felt disproportionally decadent as everyone else in the campsite reheated frankfurters. My gourmet camping might stop there, however, as the remaining camping recipes are geared towards the mobile civilisation of a VW Camper van, rather than ramblers huddled round the dying embers of a campfire.
Alice's Cook Book is part of Quadrille's New Voices in Food series, which brings fresh young things into the marketplace. The design is contemporary, with a rough cardboard cover, colourful floral bindings and kooky illustrations by Ruth Jackson. Emma Lee's photography and Tabitha Hawkins' food styling are both gorgeous – it's just a shame there isn't more of them. I am from the generation of cooks who has to dribble over photos before getting the pots and pans out; unfortunately this collection lacks sufficient gratuitous food photography. The length of time each recipe takes is also underestimated, but I'm yet to find a chef who doesn't presume we can all dice a butternut squash in seconds. Alice doesn't obscure her cooking with impossible to find ingredients either; a few Vietnamese spice pastes or pomegranate molasses do make an appearance, but the recipe always suggests alternatives or how to make your own. Equally, Alice isn't afraid of telling you when you can miss ingredients out or skip a few steps if you've got something better to do.
Alice's Cook Book could transform you into the best friend you've never had: the recipes are good humoured, inventive, and you would be the one always brought tasty cakes to the party (camper van not included).