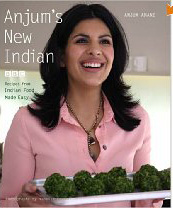 Fancy an Indian? A lot of people who watched Indian Food Made Easy on BBC certainly did. A new world record of men watching cookery programmes, unbeaten since Nigella's early days of licking her fingers and simpering at the camera.
Well if you were too busy thinking of eating to take in the recipes properly, here's another chance with the publication of Anjum's New Indian, a companion book to the series. It's all about modern Indian cooking, as you might have guessed, and particularly the regions. Over a hundred dishes are here and they are all light and stylish and don't take forever to make. You'll find all the recipes from the TV series plus a whole lot more under sections such as Light Meals and Snacks, Chicken, Meat, Chutneys etc and at the start a useful primer on core Indian ingredients and techniques which is well worth spending some time on.
It really is a modern book; excellent photography clear design and typography and an understanding of how much real time the average home cook has available. Not much, of course. The dishes surprise too, who would have thought you'd find a recipe for a Goan Chorizo Sandwich? Obviously it's not too easy finding the principal ingredient, which is not replaceable by a standard Spanish chorizo but there is a good list of suppliers included, many of which are web-based and mail order. It's also good to see a lot of pulse recipes – cheap and healthy – plus use of unusual spices to create complex flavours in simple recipes.
A very different Indian cookbook. Smart, sassy and in tune with today. Definitely a hot pick.
{ISBN:1844006166}